Amel Augustus Allen, Jr.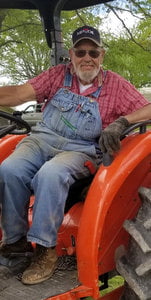 A memorial service for Amel Augustus Allen, Jr., 79, Pomona, Missouri, will be held at 2:00 p.m., Monday, January 2, 2023 in the Rose Chapel at Robertson-Drago Funeral Home.    
Mr. Allen passed away at 9:23 a.m., Friday, December 23, 2022.  
He was born October 5, 1943, at Birch Tree, Missouri, to Amel Augustus Allen, Sr. and Ester Irene Griffin Allen.  He was united in marriage to Melva Pauline Austin, on December 16, 1971 in Las Vegas, Nevada. Junior graduated from Birch Tree High School in 1961. He ventured to Ontario, California where he worked for an appliance dealer as a delivery person.  Later they sent him to school to learn appliance repair.  Junior, Melva and their three children moved to Delta, Colorado where they eventually opened their own appliance sales/repair business, which they operated for approximately twenty-five years. Upon retirement, they moved back to Missouri, and settled in Pomona. It was not long until all the community realized he could repair anything from small appliances to large farm equipment.  In a very short time, everyone that had a problem was told to call or take their things to "Junior".   Junior's generosity, kindness and willingness to help people were truly a blessing to everyone that knew him. He wore many hats, and he was known to many friends as "Junior" and" Dad", and "Grandpa "  to his family.  It goes without saying, that there will be a void in the lives of everyone he ever came in contact with.
 He is survived by sons, Kris Allen and wife, Tracie, Pomona , Missouri and
 David Allen, Kansas City, Missouri; son-in-law, Meryl Gullings, West Plains, Missouri; siblings, Pat Thompson, Clever, Missouri, Iris and (Bill) Magers, Winthrop Harbor, Illinois, Leila Wilkerson (Jim French) Billings, Missouri  and William Allen, Billings, Missouri; nine grandchildren; sixteen great-grandchildren; several nieces and nephews; and one very important, special friend, Jo Ann.
He was preceded in death by his parents, wife, Melva and one daughter,
Bobbi Jo Gullings.
Memorial contributions may be made to St. Jude's Children's Research Hospital and may be left at or mailed to Robertson-Drago Funeral Home, 211 West Main, West Plains, MO  65775.