Howard Mitchell Benton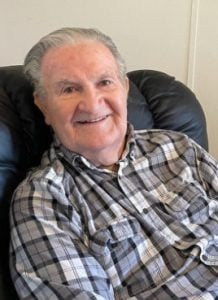 Graveside services for Howard Mitchell Benton, 85, Peace Valley, Missouri, will be held at 10:00 a.m., Saturday, November 20, 2021 at New Hope Cemetery, under the direction of Robertson-Drago Funeral Home.  
Mr. Benton passed away at 2:06 p.m., Tuesday, November 16, 2021, at Ozarks Healthcare.
Mitchell was born April 13, 1936 at Rogersville, Tennessee, to Ad Benton and Lori Love Benton.  He relocated to Rockford, Illinois, as a teen where he lived until he retired at the age of sixty-two.  Mitchell later moved to Peace Valley, Missouri, to farm, which he loved to do.  He enjoyed working outdoors, cattle farming, and gardening.  He loved his chickens that woke him up at 5:00 a.m. daily.  He loved the rolling hills and beautiful landscape of his land.  Mitchell passed time by watching old westerns on TV.
He is survived by his daughter, Margaret Garst, who was his sole caretaker until his death; three grandchildren, Timothy Benton (Roico), Thomas Reedy, and Kayla McBain; four great-grandchildren, Jordyn Benton, Reeki Benton, Angelo Benton, and Timothy Benton, Jr.; one brother, James R. Benton; two sisters, Annie Hensley and Rosie Ward; and several nieces and nephews.
His parents, wife. Victoria Benton, great-granddaughter, Kathleen Reedy, brother, Ernest Benton, and sister, Ruby Benton preceded him in death.  
Visitation will be held from 5:00 to 7:00 p.m., Friday, at Robertson-Drago Funeral Home.  Burial will be next to his loving wife at New Hope Cemetery.  Memorial contributions may be made to New Hope Cemetery and may be left at or mailed to Robertson-Drago Funeral Home, 211 West Main, West Plains, MO  65775.