Sam Fontaine Rumbaoa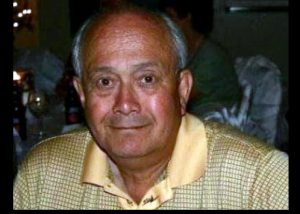 Sam Fontaine Rumbaoa, 82, West Plains, Missouri, passed away at 12:12 a.m., Monday, December 23, 2019 at Brooke Haven Healthcare. 
He was born March 21, 1937, in St. Louis, Missouri, to Frank Rumbaoa and Florence Campbell Rumbaoa.  On March 13, 1965, he was married in Benton, Arkansas, to Kathi Buchanan.   He loved his wife very much, they were best friends.  Mr. Rumbaoa was a veteran, having served in the United States Air Force.  Before his retirement, he was an OSHA Instructor for Anheuser-Busch.  He attended college at University of Missouri and played Mizzou football for three years; he was a member of Kappa Sigma.  Sam was a pitcher in the minor leagues with the St. Louis Cardinals.  He loved to play golf, travel with his wife, spend time with his grandchildren, his fur babies and drive his '62 corvette.  He also loved cooking his secret recipe for chop suey for his family and friends.  Mr. Rumbaoa loved life to the fullest, he never met a stranger.  He was of the Lutheran faith.
He is survived by his wife, Kathi Rumbaoa, of the family home; two children, Vicki McCarthy and husband, Richard, Wildwood, Missouri and Melody Goodyear, Ballwin, Missouri; six grandchildren, Zoe and  Harper Lee McCarthy and Cal, Lane, Hope and Paige Goodyear; one sister, Mary Butts; one brother, Quinn Rumbaoa; three brothers-in-law, David Schuman and wife, Marsha, Bobby Taskey and Mark Buchanan and wife, Cindy; and many nieces and nephews.
His parents preceded him in death.
Memorial contributions may be made to Wounded Warrior Project and may be left at Robertson-Drago Funeral Home. A memorial service will be held at a later date in St. Louis, under the direction of Kutis Funeral Home.  Local arrangements are under the direction of Robertson-Drago Funeral Home.