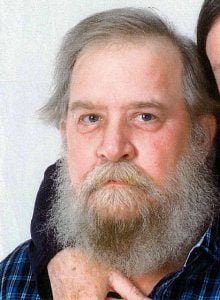 Graveside services for Albert Ralph Gargione, Jr., 65, Bakersfield, Missouri, will be held at 2:00 p.m., Saturday, April 28, 2018 at Udall Cemetery, under the direction of Robertson-Drago Funeral Home.
Mr. Gargione passed away at 5:55 p.m., Tuesday, April 24, 2018 at Brooke Haven Health Care.
He was born May 15, 19 52, at Los Angeles, California, to Albert R. Gargione, Sr. and Donna Mae Edwards Gargione. On December 27, 1972, he was married at Bakersfield, Missouri, to Elma Lee Ellison. Mr. Gargione was a veteran, having served with the United States Navy during the Vietnam era. He was a loving husband, father and grandfather and was an avid woodcarver, gunsmith and blacksmith. Mr. Gargione enjoyed Civil War reenacting, hunting, fishing and camping with his family. He had worked at sawmills and retired from Baxter Healthcare Corporation; he was a trained firefighter, EMT, Paramedic and a Registered Nurse. Mr. Gargione had served the community of Bakersfield as Mayor and City Councilman and was a member of Lion's Club and American Legion. He attended Bakersfield Assembly of God Church.
He is survived by his wife of forty-five years, Elma Gargione, of the family home; two children, Justin Gargione and his wife, Marsha and their children, Blake and Brooklynn, of Versailles, Missouri and Jennifer Johnston and her husband, Darren and their children, Westin and Savannah, of Bakersfield, Missouri; one brother, Tom Gargione; one sister, Margaret Collins and husband, Galen, all of Caulfield, Missouri; and several nieces and nephews.
His parents, two brothers, Mike and Frank Gargione and one nephew, Spike Gargione, preceded him in death.
Memorial contributions may be made to Udall Cemetery and may be left at Robertson-Drago Funeral Home.