Anthony Samuel Verdico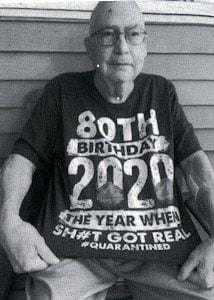 Anthony "Tony" Verdico left this world on August 3, 2020. 
He was born July 26, 1940, in Chicago, Illinois, to Rocco and Esther Verdico.  Tony was married on July 21, 1965, at Chicago, Illinois, to Ellie Talsma.  They have two sons, Mark and John Verdico.  Tony had one step-daughter, Sandi Starr and husband, Randy.  Tony was the oldest of ten brothers and sisters, Marie Moore, Rocco Verdico and wife, Ginny, John Verdico and wife, Delores, Teresa Urbanek and husband, Jim, Phyllis Verdico, Aggie Edwards and husband, Don, Frank Verdico and wife, Diane and Carmel Verdico.  He was the uncle of many nieces and nephews, lots of great-nieces and great-nephews, one great-great-niece and one great-great-nephew.
Mr. Verdico was a veteran, having served with the United States Navy and Army Reserves for a total of eighteen years.  He was also a volunteer at the West Plains Senior Center for many years.
His parents, one sister, Lola Verdico, one nephew, Reggie Watson and one great-great-nephew, Langston Bartlett, preceded him in death.
Arrangements were under the direction of Robertson-Drago Funeral Home.