Arnold Jay Stubbs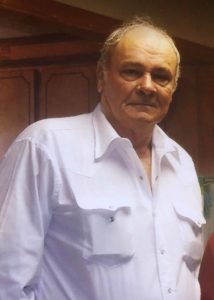 Graveside services for Arnold Jay Stubbs, 72, West Plains, Missouri, will be held at 2:00 p.m., Saturday, November 21, 2020 at Howell Memorial Park Cemetery, under the direction of Robertson-Drago Funeral Home.
Mr. Stubbs passed away at 8:24 p.m., Wednesday, November 18, 2020, at his home.
He was born October 4, 1948, at the family home in Howell County, Missouri, to Fred Harold Stubbs and Beatrice Helen Mae Collins Stubbs.  Arnold graduated from West Plains High School with the Class of 1967.  On December 5, 1970, he was married at West Plains, to Lenore Francis.  He worked at Ozark Motor Lines for twenty-seven years and Howell County Road and Bridge for twenty years.  Mr. Stubbs was a life-long farmer; he enjoyed sharing his knowledge of cattle and hay with his children and in later years, his grandchildren.  Arnold enjoyed deer hunting, as deer season was a national holiday at the Stubbs household.  His knife was always sharpened and ready to cut the shirt tail of the first to miss a buck.  He loved his family, adored his grandchildren and great-grandchildren and loved spending time with them.  Arnold was always there for his family, friends and neighbors and will be greatly missed.
He is survived by his wife, Lenore Stubbs, of the family home; two sons, Jason Stubbs and wife, Sarah, Alton, Missouri and Brandon Stubbs, of the family home; three grandchildren, Braedan, Emily and Jessie Stubbs; two great-grandsons, Bradley and Jamie Stubbs; one brother, Ronnie Stubbs, of the family home; one sister, Brenda Jewell and husband, Jerry, West Plains; several nieces, nephews and cousins; and a host of friends and neighbors.
His parents, one son, Bradley Jay Stubbs and two brothers, Donald Stubbs and Dennis Stubbs, preceded him in death.