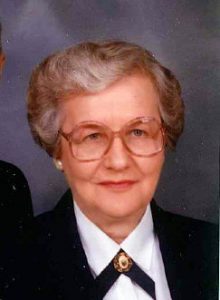 Funeral services for Betty Ann Atkinson, 83, West Plains, Missouri will be held at 2:00 p.m. Wednesday August 3, 2016 at Robertson-Drago Funeral Home.
Mrs. Atkinson passed away at 6:45 a.m., Saturday, July 30, 2016, at her home.
She was born September 20, 1932, in the West Plains, Missouri area, to John "Henry" Bailey and Ruth Crow Bailey. On May 20, 1950, she was married at the Methodist Church, Hardy, Arkansas, to Everett E. Atkinson. Mrs. Atkinson was of the Methodist faith and was a member of the First United Methodist Church for over sixty years. She attended West Plains High School and graduated with the Class of 1950. Betty always enjoyed school, her teachers, classmates and school activities; she held several class offices and was a member of the National Honor Society both her Junior and Senior years. After graduation, she was secretary to the Vice-President of auditing and Roy R. Wilson of McDonnell-Douglas Aircraft, St. Louis, Missouri for several years. She and her husband were co-owners of Atkinson Real Estate & Investments, Inc. Betty obtained her Real Estate Brokers License in 1963 and was a Certified Real Estate Appraiser for several years; she was one of the organizers and Charter Member of the West Plains Board of Realtors and served as interim Secretary during the formation of the Board. After 40 years and her husband after over 50 years, bot h retired from the real estate business in June, 2002. Mrs. Atkinson was a life member of the V.F.W. and served on he Board of the George G. Hayes Society of West Plains.  Betty enjoyed playing the fiddle with the Bluegrass group at the Civic Center.  With her parents and families throughout her childhood and with her husband of sixty-six years, she always enjoyed home, the Ozarks scenery, live-water streams and wildlife. She spent a lot of time on the farms of her parents and grandparents.
She is survived by her husband, Everett E. Atkinson; several cousins; and many life-long friends.
Her parents and one infant brother precede her in death.
Visitation will be from 6 to 8 p.m. Tuesday at Robertson-Drago Funeral Home. Memorial contributions may be made to Alzheimer's Association or Evergreen Cemetery and may be left at Robertson -Drago Funeral Home. Burial will be in the Oak Lawn Cemetery.