Betty Jo Huddleston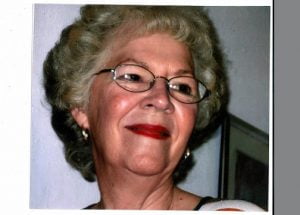 Graveside services for Betty Jo Huddleston, West Plains, Missouri, will be held at 2:00 p.m., Sunday, September 27, 2020 at Elk Creek Cemetery, under the direction of Robertson-Drago Funeral Home.
At 86 years old, Betty's work here on earth is now complete and God called her home on Wednesday, September 23, 2020, at Cox Medical Center South, Springfield, Missouri.  While they will miss her greatly, Betty's family and friends will hold dear to countless memories of her.
She was born November 29, 1933, to Floyd Lester Gannon and Delma Lorine McLellan Gannon.  Betty grew up in West Plains and was a member of the 1951 graduating class at West Plains High School.  On July 25, 1953, just shy of her 20th birthday, Betty married the love of her life, Lester Huddleston.  She and Lester enjoyed 45 years of marriage until his passing in 1998.  Throughout her life, Betty found ways to help others.  She was thoughtful and generous, known to share whatever she had with others.  She was an excellent cook, an accomplished seamstress and very creative with crafting and handiwork.  Many friends and family members have pillows, cards, pictures and other items that were both designed and handmade by Betty.  In her late years, Betty developed a writing 'ministry.'  She wrote to widows, shut-ins and others often.  Betty wrote as many as 40 cards and letters per month.   Her friends would say Betty's letters would always lift them and brighten their day.  One lady told Betty that just when she was about to give up, she would get a letter from Betty, cheering her on.  Betty accepted Jesus as her Savior at an early age and in her later years as she was able, she attended Victoria Mission Church where she was a member.  Six months ago, she became a resident of Pleasant Valley Manor in West Plains.  Betty mentioned daily how she loved everyone there.  It seems God meant for her to be there, to encourage and help brighten the lives of other residents and staff.  In fact, she often commented, even then, "God's got a plan" and indeed, he did have. 
Loved and cherished as Grandma Bet, Grammy, Grandma, Betty's life was enriched over the past 12 years with the blessing of seven great-grandchildren:  Emma, Elijah and Ellie Trantham; Hudson and Cason Patillo and Jackson and Elim Huddleston.  Betty always had a drawer filled with candy for her seven greats.  The candy drawer is just one of the many delightful memories these young ones will carry forward.  The parents of these seven greats (Betty's beloved grandchildren) are Ashley Patillo and husband, Trapper, West Plains, Amy Trantham and husband, Andy, Alton, Missouri and Nathan Huddleston and wife, Steph, Koshkonong, Missouri.  Loved and cherished as mom, sister and friend, Betty is also survived by her son, Lyndell Huddleston and wife, Nancy, West Plains and daughter, Rita  Jackson and husband, Phil, Springfield, Missouri; a beloved brother, Jack Gannon and wife, Rosalyn, New Market, Maryland; and sister-in-law, Shirley Gannon, West Plains.
Betty was preceded in death by her parents, husband, two brothers, Frank Gannon and Don Gannon and an infant sister, Dorothy
"Finally, brethren, farewell.  Be perfect, be of good comfort, be of one mind, live in peace; and the God of love and peace shall be with you."  2 Corinthians 13:11, KJV
The family would like to thank the staff and employees of Pleasant Valley Manor for their excellent care of mom for the last 6 months, and also the medical staff at Cox Medical Center South.
Mrs. Huddleston will lie in state from 5:00 until 9:00 p.m., Saturday, at Robertson-Drago Funeral Home.  Memorial contributions may be made to Gideon Bible Society and may be left at or mailed to Robertson-Drago Funeral Home, 211 West Main, West Plains, MO  65775.