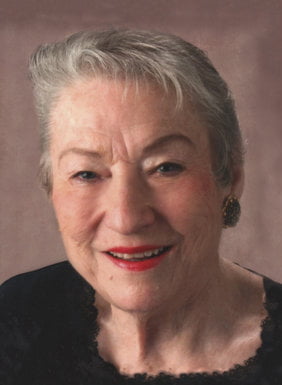 Memorial services for Beulah Cleola Fleming, 89, Caulfield, Missouri, will be held at 12:00 p.m. Saturday, January 24, 2015 at the Church of Jesus Christ of Latter Day Saints, West Plains, Missouri.
Beulah entered into eternity on January 20, 2015 in West Plains, Missouri.
She was born October 20, 1925 in Florence, Arizona, the daughter of David J. Bryce and Flossie Bell Holladay. She grew up on a cattle ranch just outside of Florence, Arizona, enjoying friends, singing, dancing, performing in high school, and sneaking away to town to watch movies every chance she got. Beulah was the daughter of Mormon pioneers and took great pride in the fact that Bryce Canyon National Park in southwestern Utah was named after her great grandfather, Ebenezer Bryce, a Scottish immigrant and builder of Pine Valley Ward Chapel in Pine Valley, Utah, the oldest meetinghouse in continuous use in the LDS Church.
This tradition of faith was evident in Beulah's life. She attended church wherever she lived or wherever she traveled, always making new friends, singing, and participating in Relief Society and enjoying genealogy. Many of her church friends became like family to her. Her faith sustained her through several serious illnesses and the loss of all three of her sons.
On Valentine's Day, 1959, Beulah Woodruff married Richard "Dick" Fleming, bringing her three sons, Robert Jarvis, Steven Henry, and Leonard Richard to the union and gaining four step-daughters, Michelle Shawn, Heather Maureen, Colleen Machushla, and Doretta Nile Pauline. Their marriage, laughter and adventures lasted thirty-six years until Dick's death in 1995.
Beulah loved to travel, and toured the United States and Europe, went on cruises, and lived in England for a year. She loved to sing and dance, loved movies and television—the Academy Awards (Oscars) were practically a national holiday for her. She loved to swim, paint and lunch with friends, but most of all, she loved her family. Beulah lovingly answered to the names "Mawsie", "Grandma Bunny", "Granny" or "Booly-Boo", and loved to attend the grandchildren's and great-grandchildren's school programs and theatrical productions. She loved to celebrate any success or accomplishment with an ice cream sundae or chocolate cake, no matter if it was a spelling bee, a track meet, or a musical. Beulah was the best cheerleader for the people she loved and added color and laughter with her presence.
Beulah will be sadly missed by her survivors, sister-in-law Mary Bryce, step-daughters Michelle Vandiver and husband Chip, Heather McCluskey and husband Bill, Colleen Fleming, and Doretta Sowell, daughter-in-law, Arlene Anderson Arnold and husband Tim, grandchildren Cara South and partner, Donna Ciero, Brett McCluskey and finance, Jules Corriere, Theresa Griggs and husband John, Kit McCluskey and husband, John Thompson, Heather Sowell, Leigh Vandiver, Russell Vandiver, Nicole Codling, Aaron Codling, Nathan Fleming and wife Dana, and Cherice Fleming Togun and husband, Raphael, and great-grandchildren, Stephen McCluskey, Sienna South-Ciero, Coco South-Ciero, Luca South-Ciero, Kadence Griggs, Roxie Griggs, Hali Codling, Isabella Fleming, Isaac Fleming, Carolina Fleming, Matheus Togun and Felipe Togun, and several nieces and nephews and great-nieces and nephews.
She is preceded in death by her husband, Richard Fleming, her sons, Robert Fleming, Steven Fleming, and Leonard Fleming, great-granddaughter, Vivian Griggs, and her parents, two brothers and three sisters.
Memorial contributions may be made to West Vue Nursing Home Residents Need Fund, and may be left at Robertson-Drago Funeral Home.