Billie Shelton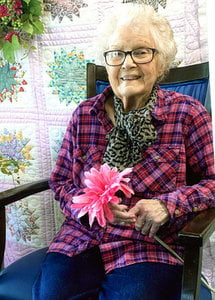 Graveside services for Billie Shelton, 100, Springfield, Missouri, will be held at 2:00 p.m., Wednesday, February 3, 2021 at Howell Memorial Park Cemetery, under the direction of Robertson-Drago Funeral Home.
Mrs. Shelton passed away at 3:15 p.m., Sunday, January 24, 2021, at The Gardens Assisted Living, Springfield, Missouri, after a long and fruitful life.  She was just three months shy of reaching the age of 101.
She was born in 1920, at Willow Springs, Missouri, to Walter Light and Viola Whited Light. Born into a large family of twelve, Billie was second to the youngest and the last of her siblings to pass away.  Billie met her husband, William E. Shelton, while she was a senior in high school.  He was the music director at Willow Springs High School.  They were married soon after she graduated and were married for forty-seven years.  William died of liver and colon cancer in Springfield, October 13, 1985.  Billie and Bill lived in many places in Missouri, including Buffalo, Kansas City and North Kansas City.  In 1952 they moved to Southern California and lived in Montebello, Whittier and Brea until 1973 when they returned to Pomona, Missouri to retire.  William built a home in Pomona and they lived together there until his death.  Billie moved to West Plains and then to Springfield.  Billie and William were active in church and music and sang together often.  She was an active and talented seamstress and quilter.  Billie was an excellent cook, loved tending to flowers and a large garden in her earlier years in North Kansas City.  She and William took up oil painting and became quite skilled at putting their ideas on canvas.
She is survived by two daughters, Janet Turner and husband, Kevin and Cathy Jeffery and husband, Hal; one son, William D. Shelton and special friend, Patty Prentice; four grandchildren, Jon Shelton and wife, Marci, Brian Shelton and wife, Sara, Stephanie Terwilliger and husband, Mark and Joe Arns and wife, Kristi; seven great-grandchildren, Jeremy, Adrienna and Joseph Arns, Travis Shelton, Chloe Morse and Logan and Garrett Olbrich; one great-great-grandson, Aiden Hansen; and many nieces and nephews.
Her parents, husband, six brothers and five sisters, preceded her in death.
Memorial contributions may be made to Haven Hospice, Springfield, Missouri and may be left at or mailed to Robertson-Drago Funeral Home, 211 West Main, West Plains, MO  65775.