BO PACE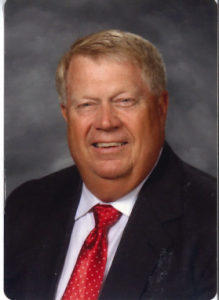 Family and friends of Terry "Bo" Pace, 68, West Plains, Missouri are invited to a reception beginning at 11:30 a.m., Saturday, August 8, 2020 at the West Plains Country Club.
Terry "Bo" Pace passed away on Sunday, August 2, 2020 at Barnes-Jewish Hospital, St. Louis, Missouri, after a brief illness.
He was born to Brack and LouVenia Hogsed Pace on April 2, 1952 at home on the Pace Family Farm; therefore creating a love of agriculture from the very beginning.
A 1970 graduate of West Plains High School, he enjoyed representing his school as an athlete in football, basketball and baseball.  While playing on the football team his senior year as co-captain, the team earned the first undefeated season and first time in state playoff competition for the Zizzers. He also enjoyed playing basketball and being a member of the 1970 undefeated baseball team for the Zizzers.  He was president of the Fellowship of Christian Athletes, attended Boy's State, and was a member of many other clubs.
On October 15, 1972, he married his high school sweetheart, Sunie McNevin in West Plains, Missouri.  To this union they were blessed with their daughter, Suzannah.
The couple made their home in West Plains where Bo started his career as a lifelong salesman working for West Plains Veterinary Supply and the Ozark Horse Trader from where he retired in 2014.  Knowing Bo could not sit still for long and continuing his appreciation of agriculture he began seasonal work for Tyree Fertilizer.  He always looked forward to his Tuesday and Wednesday trips to the sale barn, Thursday golf outings with his buddies and spending time on the lake with friends. He never met a stranger and always greeted you with a big smile and a joke.
Bo was a true champion in his support of West Plains.  In his lifelong selfless service to his community through his involvement with such organization as the West Plains High School FFA Alumni Association, University of Missouri Extension Council, Cystic Fibrosis Association of West Plains.  He also served 12 years on the West Plains R-7 School Board holding the position of Vice President at the time he left the board.  In addition, he served as a board member on the Missouri School Board Association.  He was most recently serving as a delegate for MFA Oil District 8-Mid South.  He was currently serving as a member of the Committee on Ministry for the John Calvin Presbytery.  He was an active member of the First Presbyterian Church in West plains where he was an elder and was currently serving as treasurer. Bo spent may years serving on the Missouri State University-West Plains Grizzly Booster Club Executive Board of Directors where he served as president along with being involved in many other MSU-West Plains committees and events.
Bo's work of serving his community did not go unnoticed. He received the 2004 Chairman's Award from the Greater West Plains Chamber of Commerce in recognition of his public service and support of the West Plains community; the 2006 Grizzly Track Award for his enthusiasm and support of Grizzly Athletics; and the 2015 Distinguished Zizzer Alumnus award for being a positive role model for students and for having made a positive contribution to West Plains.
He is survived by his wife, of 47 years, Sunie, one daughter, Suzannah, two brothers, Mike Pace and wife, Diana, and Randy Pace and wife Sherry, father-in-law, Jack McNevin, sisters-in-law, Susie Warden, Sandy McNevin and Sally Watkins; and many nieces and nephews along with other relatives and friends.
His parents, grandparents, Thomps and Martha Pace, H. J. and Vida Hogsed, and mother-in-law, Marian McNevin , precede him in death.
Private family memorial service will be held on Saturday, August 8, 2020
Memorial contributions in memory of Bo Pace may be made to the First Presbyterian Church of West Plains or the West Plains High School FFA Alumni Association and maybe left or mailed to Robertson-Drago Funeral Home.