Bobby Dale Bridges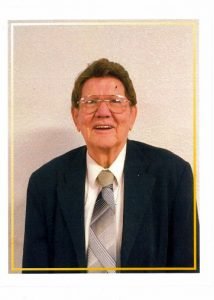 Funeral services for Bobby Dale Bridges, 80, West Plains, Missouri, will be held at 10:00 a.m., Friday, January 31, 2020 at the Langston Street Chapel of Robertson-Drago Funeral Home.
Mr. Bridges passed away 2:52 a.m., Tuesday, January 28, 2020 at his home.
He was born May 15, 1939, at Viola, Arkansas, to Drew and Alpha Cooper Bridges.  Bobby grew up in Viola, Arkansas, later moving to West Plains.  He served his community in many ways through his years.   He was always willing to help anyone in any way that he could.  He served his country for ten years serving on the Selective Service Board.  Mr. Bridges owned and operated an auto parts store for a number of years and was a building inspector for the City of West Plains and in 1990 started his own inspection business that he continued doing until his health prevented it.  He endured health problems throughout his life, with his first heart attack at the age of thirty-three and several other serious issues, but did not let that stop him from enjoying his life to the fullest.  Bobby stated:  "God got me through along with my wife, who stood by my side through all of the health issues, God bless her" Bobby loved spending time with his family.  On May 13, 1982, he was married at West Plains to Marge Martin.  Together, they enjoyed camping, boating, singing gospel music and being active in church.  Bobby also enjoyed racing cars, softball and spending time with his children, his many grandchildren and great-grandchildren.  Mr. Bridges was a member of Calvary General Baptist Church.   "When I am gone, look for me in Heaven"
He is survived by his wife of thirty-eight years, Marge Bridges; four children, Vickie Hancock and Shelly Upton and husband, Kirt, (from a previous marriage) and Cindy Atwell and husband, Walter and Kelly Lawing; nine grandchildren, Allison, Ashton, Logan, Jensen, Tasha, Jacob, Whitney, Meagan and Michaela; several great-grandchildren; and several nieces and nephews.
His parents and all eleven siblings preceded him in death.
Visitation will be held from 6:00 until 8:00 p.m., Thursday, at the Langston Street Chapel of Robertson-Drago Funeral Home.  Burial will be in the Mt. Calm Cemetery, Moody, Missouri.  Memorial contributions may be made to Mt. Calm Cemetery and may be left at Robertson-Drago Funeral Home.