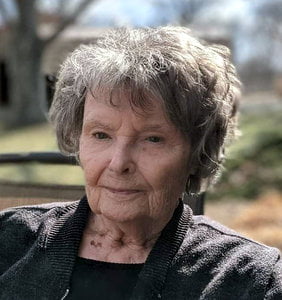 Funeral services for Bonnie Ellen Sullivant, 92, West Plains, Missouri, will be held at 2:00 p.m., Saturday, November 11, 2023, at First Baptist Church, West Plains, Missouri, under the direction of Robertson-Drago Funeral Home.    
Mrs. Sullivant passed away at 2:48 a.m., Friday, November 3, 2023, at Brooke Haven Healthcare.  
She was born October 21, 1931, at Delaware, Missouri, to Odell and Nettie Epperson Napier.  On June 2, 1951, she was married at Mammoth Spring, Arkansas, to Norval Lee Sullivant, who preceded her in death on May 3, 2014.  Before her retirement, Bonnie was the owner/operator of Sullivant Shoe Store and Junction Hill S-Mart; she also worked with the Howell County Clerk assisting in voter registration.  Bonnie was spontaneous and loved adventure.  She and Norval would often go for a drive, even without a destination in mind.  The drive would always include a stop at a favorite restaurant.  Bonnie was never too busy to take time to enjoy the simple things in life; visiting with family and friends, appreciating the beauty of each day that God gave her or simply enjoying conversation over a cup of coffee.  She was a steady support for all of her family and friends; you always knew you could call upon her and she would be available to give help or a kind word.  Bonnie was the kind of person who would always think of others before herself.  She was loved by everyone.  Bonnie was one of the founding members of The Birthday Girl Society, which is still going today.  Mrs. Sullivant was a member of First Baptist Church of West Plains for many years where she sang in the church choir.
She is survived two children, Dirk Sullivant and Jill Pietroburgo and husband, Philip, all of West Plains; three grandchildren, Jesse Pietroburgo and wife, Madee, Deland, Florida, Grace Schierling and husband, Malachi, West Plains and Samuel Pietroburgo, West Plains; and several nieces and nephews. 
Her parents, husband and two sisters and brothers-in-law, Jean and Earl Clemons and Nondes and Charles Good, preceded her in death.  
Visitation services will be held from 5:00 until 7:00 p.m., Friday, at the Langston Street Chapel of Robertson-Drago Funeral Home.  Burial will be at Howell Memorial Park Cemetery.  Memorial contributions may be made to Eagles' Wings Ministries and may be left at or mailed to Robertson-Drago Funeral Home, 211 West Main, West Plains, MO  65775.