Bonnie Joan Tackitt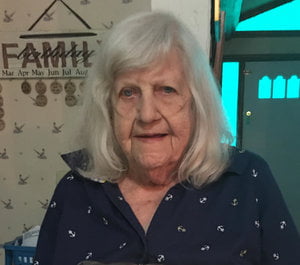 Graveside services for Bonnie Joan Tackitt, 82, Caulfield, Missouri, will be held at 2:00 p.m., Wednesday, September 15, 2021 at Elijah Cemetery, under the direction of Robertson-Drago Funeral Home.  
Mrs. Tackitt passed away at 4:00 p.m., Sunday, September 12, 2021, at her home.  
She was born June 2, 1939, at Elijah, Missouri, to Elmer T. Hensley and Grace Tackett Hensley.  On February 9, 1956, she was married at Caulfield, Missouri, to Marvin Mearl Tackitt, who preceded her in death on November 7, 2004.  Mrs. Tackitt had worked at the International Shoe Factory.  She enjoyed the outdoors, camping, fishing and floating the river.  Bonnie was a jokester and enjoyed a good laugh.  Mrs. Tackitt was a member of Elijah Church of Christ. 
She is survived by three children, Vicky Baumgart and husband, Greg, Springfield, Missouri, Ronnie Tackitt, Caulfield, Missouri and Misty Tackitt, Harrison, Arkansas; ten grandchildren; five great-grandchildren; one sister, Neoma Haskin; two brothers-in-law, Mark Tackitt and Hollis Tackitt and wife, Nancy; two sisters-in-laws, Vernetta Collins and Carol Tackitt; and several nieces and nephews. 
Her parents, husband and three sons, Vernon (Bub), Quentin and Monte Tackitt, preceded her in death.  
Memorial contributions may be made to Elijah Cemetery and may be left at or mailed to Robertson-Drago Funeral Home, 211 West Main, West Plains, MO  65775.