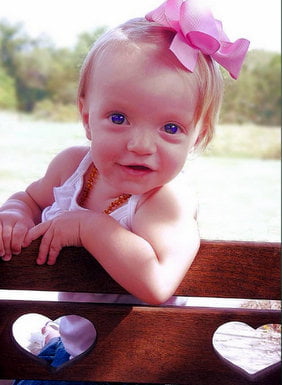 A celebration of life service for Camber Pazely Anne Piper, 1, West Plains, Missouri, will be held at 2:00 p.m., Tuesday, October 28, 2014, at United Freewill Baptist Church, West Plains, under the direction of Robertson-Drago Funeral Home. The service will be officiated by Jason Roberts and Dennis McGinley. Pallbearers will be her grandfathers, Keith Armstrong and Chris Piper. Camber's smile shines on her family today and always.
Camber went to be with the Angels at 6:24 p.m., Thursday, October 23, 2014, at Ozarks Medical Center.
She blessed Ben and Austi Piper with her arrival into this world on August 13, 2013. There was no doubt she was loved by her family, even before she entered this world. Camber was a blessing beyond belief. Her toothy grin lit up a room and her laugh was infectious. Camber was a petite thing, with personality as big as Heaven itself. Her big bright eyes, passed down from her momma, were her signature asset. Those eyes will never be forgotten. Camber enjoyed music with her momma and dancing with her daddy. She was a very proud big sister. She loved to kiss and love on her sister anytime she had the chance. Camber was determined, smart and independent. Playing with her toys, cell phones and remotes gave her much joy. She loved Minnie Mouse and watching Doc McStuffins and loved packing around her Lambie and baby doll. Camber enjoyed bath time from the start and loved splashing around in the tub. There wasn't a meal you could put in front of her that she didn't like. She had so much fun playing peek-a-boo and ball. She was quite the ham and the light of everyone's lives; watching her grow and learn was a tremendous blessing to all who knew her. Her mixture of sweetness and spunk was a combination so perfect, only God could create it. Although she will be missed beyond belief, her family and friends will keep their memories of her close to get them through, until they meet again. Her light will never fade.
She is survived by her parents, Ben and Austi Piper; one sister, Crimson Piper; grandparents, Chris and Sheri Piper, Kim Johnson and Keith Armstrong; great-grandparents, Don and Shirley McCracken, Mary Ann and Lonnie Collins, Joyce Piper, Jackie Robbins, Delores Armstrong and Loretta Ball; aunts, Alix Overstreet, husband Doug and Sonnie Piper; and uncles, Aden Johnson and Andrew Johnson.
Waiting at Heaven's gates to welcome Camber are her great-grandparents, Duane Dawson, Larry Piper and Robert Armstrong and aunts, Abby Armstrong and Alissa Piper.
Visitation will be held from 6:00 until 7:00 p.m., Monday at Robertson-Drago Funeral Home.  Memorial contributions may be made to the Camber Piper Fund, and may be left at Robertson-Drago Funeral Home or Community First National Bank, West Plains.