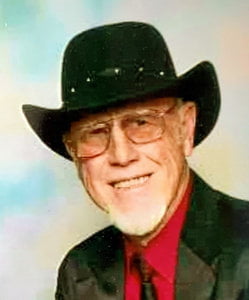 Funeral services for Carl Freeman Trantham, 90, West Plains, Missouri, will be held at 2:00 p.m., Saturday, November 18, 2023, in the Rose Chapel at Robertson-Drago Funeral Home.    
Mr. Trantham passed away at 8:45 p.m. Sunday, November 12, 2023 at his daughter's home in Pekin, Illinois surrounded by his loving family.
He was born May 4, 1933 in Koshkonong, Missouri to Hade and Clara (VonAllmen) Trantham.  Carl married Virginia Lee McIntyre on July 14, 1955 in Peoria.  He later married Norma Jean Tucker on October 29, 1976 in Groveland.  She died September 21, 2005.  He also was preceded in death by his parents and one brother, Goldman Lee Trantham.
 Surviving are two daughters, Carla Pettett of Creve Coeur and Diana (Rick) Evans of Pekin; three grandsons, Jason (Nichole) Smith, Court (Courtney) Evans and Justin Evans; one sister, Pauline Judd of Washington and two special friends, Joyce Peabody and Patricia Slack.
Mr. Trantham was a United States Army veteran of the Korean War.  Carl formerly owned and operated a filling station in East Peoria and also had worked for Caterpillar, Inc. in parts and welding.  He later worked for Kroger driving a semi and also had worked for C.A. Powley running heavy equipment.  A singer, songwriter and entertainer since the age of 8, Carl played various night clubs in the Peoria and surrounding areas most of his life.  He has a number of recorded singles including one most popular oversees, "Where There's a Will There's a Way" and "I'm A Caterpillar Man", which is well known in the Peoria area.  Carl had even entertained troops while in the military and traveling aboard ships.  Carl was a person of faith and had attended several protestant churches in the West Plains and Rover areas.  He loved family, musical entertainment, antique cars, watching bluegrass/gospel shows, songwriting and deer hunting.
Visitation services will be from 5 to 7 p.m. Thursday, November 16, 2023 at Preston-Hanley Funeral Homes & Crematory in Pekin.  Further visitation will be from 1 to 2 p.m. Saturday, November 18, 2023 at Robertson-Drago Funeral Home in West Plains, Missouri.  Burial will be at Jolliff Cemetery.  The family would like to extend a special thank you to Ozark Medical Center Hospice in West Plains, CenterWell – Home Health, Respite Care in West Plains, Serenity Point Hospice in Canton and Visiting Angels in Peoria.  Memorial contributions may be made to Tazewell Animal Protective Society, 100 Taps Lane, Pekin, IL 61554 and may be left at or mailed to Robertson-Drago Funeral Home, 211 West Main, West Plains, MO  65775.