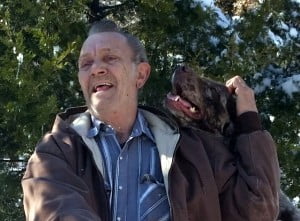 Graveside service for Carlos Edward Pounds, 67, Caulfield, Missouri, will be held at 1:00 p.m., Monday, October 5, 2015 at Big Springs (Bly) Cemetery, under the direction of Robertson-Drago Funeral Home.
Mr. Pounds died Wednesday, September 30, 2015 at Ozarks Medical Center.
As one of six children, he was born February 21, 1948, at Noble, Arkansas, to Frank and Hazel Pounds.  On June 2, 1968, he was married at Caulfield, Missouri, to Patsy M. Fare.  Carlos and Patsy resided at their family home in Caulfield for more than thirty-five years.  He was known to most as "Cork".  Throughout his lifetime he held different occupations including laborer, security and janitorial services.  The most important of his chosen paths, was that he served his Lord as a member of the Christian faith.  He was a very loving and caring husband, father, grandfather, brother and friend.  Cork enjoyed playing gospel and country music on his guitar, going fishing as much as possible and appreciated the moments spent with family and seeing them happy.  There was a quote that was said about Cork "He was a good guy who always made me laugh".  This was very true, whether it was his jokes that some will remember, his sense of humor at a bad time or his whistling that brought a smile to many faces.  He was a man that would help anyone and give anything he could to make things better for someone else.
He is survived by his wife of forty-seven years, Patsy Pounds; one daughter, Pamala M. Sisney and husband, Shannon O. Sisney, Caulfield, Missouri; two granddaughters, Kendra and Chloe Sisney and one new grandbaby on the way; three sisters, Iva Hobbs, husband, J. D. Hobbs, Caulfield, Missouri, Evelyn Norman, Bristol, Tennessee and Dorothy Wideman, Bradenton, Florida; one brother, Robert Pounds and wife, Susan Pounds, Pocahontas, Arkansas; and many nieces, nephews, great-nieces, great-nephews, lots of other family and great friends.
His parents, one daughter, Amber Marie Pounds and one young brother, precede him in death.
Memorial contributions may be made to the family and may be left at Robertson-Drago Funeral Home.