Casus Claud Baird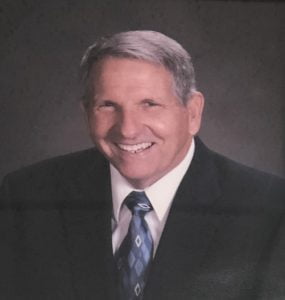 A Celebration of Life for Casus Claud Baird, 73, West Plains, Missouri, will be held at 1:00 p.m., Saturday, December 11, 2021 at First Christian Church, under direction of Robertson-Drago Funeral Home.  
Mr. Baird passed away at 10:34 a.m., Saturday, December 4, 2021, at Springfield, Missouri.
He was a man who answered to a lot of names.  Most people — students, teachers, parents — knew him as Mr. Baird.  His church family and his close friends knew him as Casus. If you grew up with him in the small town of Hardy, Arkansas, or were one of his five brothers and sisters, he went by Sonny, a name that phonetically matched his disposition.  In the hours after his passing, the phone rang with offers of condolences. And multiple callers gave him another name, Best Friend. Three people were lucky enough to call him Dad. You'd think a little three-letter word would stay simple and consistent. But, depending on their ages, whether they were pleading to stay out past curfew, or straining to run downstairs on Christmas morning, it could sound so different and take on a whole world of meaning.  And, one, got to call him husband. Her name is Helen, but most times, across almost 53 years he could be heard calling her Hon. Theirs was not a Hollywood love. In those movies the lights come up as soon as the first kiss is delivered. Nor was it the kind that makes a novel sizzle, filled with jealousy and betrayals. It was quiet. It was deep. It was real. It's the kind of love that was summed up in an offhand comment he made during the recent Thanksgiving holiday, "We've been together all these years, we know what works, and we're still having fun together." Everyone should be so lucky.  He had another love, and for that love he received three more names — first teacher, then principal, then superintendent. That love was Howell Valley School. (A few students sent to his office because of a tussle on the playground or after back-talking a teacher, might have had other names for him, but as this is a small-town paper, we'll omit those from the public record.)  Knowing that the world doesn't sleep and competition is always increasing, he worked constantly to raise the standard of education. By the early 1980s, at a time when less than 2% of the country owned a computer, Howell Valley had its first PCs. Later, in 10 of his last 11 years as superintendent, the school was "Accredited with Distinction," one of the highest honors a school district can receive.  Great accomplishments are the result of even greater commitment. Over the years he mopped and waxed the floors; tended to skinned knees and bee stings; cut the grass; moved furniture and fixtures; swung a hammer; cooked; played catch; shot a basketball; prayed earnestly for his community; and thought often of those students who were beyond his help. His footprints mark the hallways. The students he touched reach around the world.  
He is survived by his wife of 52 years Helen Baird of West Plains, Missouri; two sons, John Baird and wife, Melissa, Seattle, Washington, Daniel Baird and wife, Megan, Honolulu, Hawaii; one daughter Sarah Coats and husband, Andy, Lee's Summit, Missouri; two granddaughters Katie and Emma Coats; one brother, Lee Baird, and wife, Debbie of Williford, Arkansas; four  sisters, Anna Jane Quinn of Olympia, Washington; Deanna Kern and husband, Tom, of York, Pennsylvania;  Marvine Kudis and husband, Gary, of Rockville, Maryland; Susie Buchanan and husband, Vincent, of Livingston, Texas; brothers-in-law, Johnny Leyland and wife, Kay, of Herman, Missouri, Danny Leyland and wife, Phyllis, of Sparta, Missouri and Davy Leyland and wife, Cindy, of Gladstone, Missouri; a special Uncle, Thomas Baird of Searcy, Arkansas, and several cousins, and nieces and nephews.
He was preceded in death by his father Marvin Casus Baird who died when Casus was 11, and mother Jessie Marie Baird.
He always had a smile. A big laugh. And an even bigger heart.
Oh, and I almost forgot. Two called him Gampy. One more, who'll be arriving in about four months, his firstborn grandson. It'll be a few years before he can pronounce his unique first name. We've decided to call him Casus.
Mr. Baird will lie in state from 5:00 p.m. to 8:00 p.m., Friday, in the Rose Chapel.  Burial will be at Howell Valley Cemetery.  Family, friends, community members, and the Howell Valley community including alumni, teachers, and students are invited to a reception/celebration of life from 4-6 p.m. at Howell Valley School in the new Howell Valley Gymnasium.  In lieu of flowers, the family asks for donations to be sent to:  Community Foundation of the Ozarks, c/o Howell Valley School Foundation, 1378 Bill Virdon Blvd., West Plains, MO 65775, with checks made payable to Casus Baird Memorial Fund.  Memorial contributions may also be left at or mailed to Robertson-Drago Funeral Home, 211 West Main, West Plains, MO  65775.