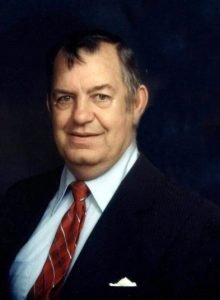 Funeral services for Charles Theodore "Chuck" Pirkle, 83, Brandsville, Missouri, will be held at 2:00 p.m., Friday, October 7, 2016 at Brandsville Pentecostal Mission, Brandsville, Missouri, under the direction of Robertson-Drago Funeral Home, and officiated by Brother Kelsey Villines.
Mr. Pirkle left this world peacefully and comfortably, surrounded by his family Tuesday morning, October 4, 2016 at Ozarks Medical Center.
He was born March 2, 1933, in Sparta, Illinois, to Theodore and Geraldine Pirkle.  Mr. Pirkle was a veteran, having served with the United States Marines during the Korean Conflict.  After the war, he moved his brothers and sisters to Phoenix, Arizona, where he was a civilian firefighter and trainer at the Litchfield Naval Air Facility.  On May 10, 1957, he married Betty Joy Younger in Phoenix, Arizona.  They moved to Missouri in 1966, where they owned and operated a dairy farm until they moved to Brandsville, where he served as Mayor for 18 years.  One of his major accomplishments during those years was to bring public water service and a water tower to his community.
He is survived by his wife of fifty-nine years, Betty Pirkle; two daughters, Susan Nemec and Denna Boardsen and husband, Dr. Dan Boardsen; four grandchildren, Katharine Manuel and husband, Michael, Scott Nemec and wife Liana, Stephanie Jackson, and husband, Luke and Jennifer Poole and husband, Jordan; and five great-grandchildren, Rose Nemec, Joy Horton, Lucien Horton, Vincent Jackson and Louis Jackson.
His parents, three brothers and three sisters, precede him in death.
Visitation will be from 5:00 until 9:00 p.m., Thursday, at Robertson-Drago Funeral Home.