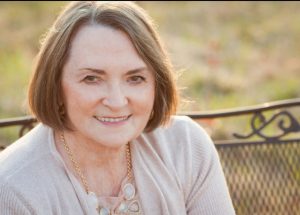 A Celebration of Life Service for Cherry-Ann Fite, 81, West Plains, Missouri, will be held at 10:00 a.m., Saturday, October 26, 2019 at the Langston Street Chapel of Robertson-Drago Funeral Home.
Cherry-Ann Fite, loving wife and mother of five children, passed away in the care of her family Tuesday, Oct. 22, 2019, after a long illness.
She was born Aug. 12, 1938, in Cardiff, Wales, U.K. to George Percy Reece and Irene Emily (Hopkins) Webster. On June 7, 1973, she married her "true love" James B. Fite in West Plains. Together they raised five children, relishing in all their achievements. Together they have 10 grandchildren, four great grandchildren (with two more on the way!), plus numerous beloved nieces and nephews, near and far. Born at the beginning of World War II, she endured the tribulations of war time until she reached seven years. Educated in Europe she attended an all-girls school and college before she arrived in the United States. With the encouragement of James, she became a citizen of these United States, never foregoing her right to vote. She earned a degree in Public Health and an MBA. Most of her life's work was in health, first with local physicians, West Plains Memorial Hospital (OMC), the Missouri Department of Health and eventually undertook the challenge to create a Howell County Health Department. She succeeded in securing state funding and wrote grants to support a full-service health department; ultimately developing a plan to establish local funds for a permanent county health department. The people of Howell County voted "Yes" in all precincts to establish it. During these years, the grants she wrote were in excess of a million dollars and provided county and city law enforcement, fire departments, ambulance services, 911, and other entities with much needed equipment, training, technology and trail walks. One of the largest grants provided funds for a Geographic Information System (GIS) and new property mapping for Howell County. Grants were also written to provide health education, family planning, heart health, maternal and child health services in a multi-county area. She was proud of the South Central Public Health and later Howell County Health Department professional staff and the services they provided. Before she retired at the age of 69, she spent four years as Acting Director/Grant Coordinator of the Federally Qualified Health Center (FQHC) in Gainesville while managing the previous grants she wrote. She was involved in many professional organizations and was recognized for her contributions to improving public health. Cherry volunteered with the Miss Missouri/Miss America Scholarship Program for nine years. It was her joy to provide college scholarships to young ladies in the community as well as encourage their professional abilities, self-esteem and provide a showcase for their talents. Cherry was intelligent, elegant and artistic. She had a great eye for design – both interior and fashion – and was an excellent seamstress, as many can attest to during the short period she owned "Chellz" Formal and Bridal Wear. She also delighted in the wildlife at their home on -JF Ranch in Southfork. Spending time with James, her family and friends brought her great happiness and joy. She will be remembered for her patience, for her quiet leadership which lifted up those around her, and her concern, support and love for her family, friends and the people of Howell County.
She is survived by her husband James; their five children, Steven Cupples and his spouse Melanie of Brighton, Michigan; Forest Cupples and his spouse Judy of Aurora, Colorado; Bryan Cupples and his spouse Blanca of Milton, Georgia; Karla (Fite) and her husband Dave Tiefenthaler of Salem, Missouri; and Farrah Fite and her spouse Gus Wagner of Jefferson City, Missouri; her half-sisters Margaret (Reece) Andrews and Sandra (Reece) Baggot; James' loving siblings Helen Brixey, Robert Fite and his wife Vera, Shirley (Fite) and her husband Jerry Surritte, and Bonnie (Fite) and her husband Ronnie Hardin; and many special friends.
Her father and mother, 11 half-siblings, her sister-in-law Naomi Inlow, and brother-in-law Cecil Brixey, all preceded her in death.
Family, friends and the community are invited to gather to express gratitude. A visitation will be from 5-7 p.m., Friday, Oct. 25, at the Langston Street Chapel of Robertson-Drago Funeral Home. Family and dear friends are invited to join as she is laid to rest following the service at Mt. Zion Cemetery, Southfork. In lieu of flowers, donations to the Mt. Zion Cemetery Fund or the Community Hospices of America Foundation in appreciation of the services of Compassus Hospice of Jefferson City are welcome and may be left at Robertson-Drago Funeral Home.