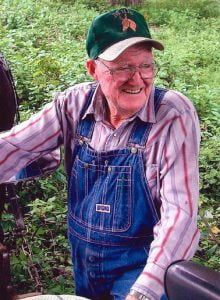 Funeral services for Clifton Luna, 91, Dora, Missouri, will be held at 2:00 p.m., Tuesday, October 18, 2016 at the Dora Saddle Club Arena, under the direction of Robertson-Drago Funeral Home.
Mr. Luna passed away at 10:45 a.m., Saturday, October 15, 2016 at his home.
He was born March 21, 1925, at Dora, Missouri, to Homer Luna and Dorothy Warren Luna.  On November 27, 1948, he was married at Mountain Home, Arkansas, to Flora Mae Thornton.  Mr. Luna was a veteran, having served with the United States Navy during World War II on the USS Twining.  He was a farmer and the owner and operator of Luna Sawmill, a family operation where most all of his family had worked at some point.  Mr. Luna enjoyed his mules and cattle.  He was a member of the West Plains Wagon Club where he was a past President, member of Gee & Haw Wagon Club, member and past President of Dora Saddle Club and was a past member of Dora School Board.
He is survived by his wife of nearly sixty-eight years, Flora Luna, of the family home; five children, Bob Luna and wife, Pam, Terry Luna and wife, Amy, Mike Luna, Sharon Fox and husband, Kelvin, all of Dora, Missouri and Kelly Luna and wife, Cherie, Zanoni, Missouri; seventeen grandchildren; thirty-five great-grandchildren; two brothers, Norman Luna, and wife, Jean, Tecumseh, Missouri and Burnie Luna and wife, Wanda, Elizabethtown, Kentucky; two sisters, Elouise Morton, Vanzant, Missouri and Rozelle Partida, Bentonville, Arkansas; and several nieces and nephews.
His parents, one son, Charles Luna and two sisters, Nadine Luna and Maxine Collins, precede him in death.
Visitation will be from 6:00 until 8:00 p.m., Monday, at Robertson-Drago Funeral Home. Burial will be in the Ball Cemetery.  Memorial contributions may be made to Ball Cemetery and may be left at Robertson-Drago Funeral Home.