Climeth Odel Layman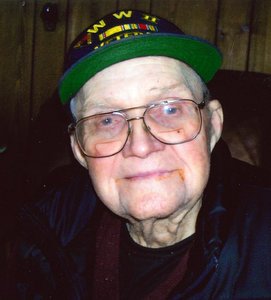 Funeral services for Climeth Odel Layman, 103, West Plains, Missouri, will be held at 10:00 a.m., Saturday, September 4, 2021 in the Rose Chapel at Robertson-Drago Funeral Home. 
Mr. Layman passed away at 7:00 p.m., Friday, August 27, 2021, at his home. 
He was born May 8, 1918, at Birch Tree, Missouri, to William Albert Layman and Mattie May Ledbetter Layman.  On December 24, 1940, he was married at Alton, Missouri, to Juanita Sarah (Wink) Miller, who preceded him in death on September 4, 2012.  Mr. Layman was a veteran, having served with the United States Army.  He worked as a sawmill operator for a number of years and was a farmer.  Mr. Layman was a Bible teacher for many years and enjoyed fishing, hunting, woodworking and talking politics.
He is survived by five children, Bletta Sunderman, West Plains, Missouri, Emelda Smith and husband, Howard, Pine Bluff, Arkansas, Wilmetta Layman, Morton, Washington, Clem Layman and wife, Minta, Morton, Washington and Bill Layman and wife, Becky, Morton, Washington; eleven grandchildren, Shelley, Chloette, Ronda, Derek, Nathan, Corey, Kyle, Miranda, Sara, Ashley and Keith; sixteen great-grandchildren, Misty, Dusty, Shonda, Trey, Savannah, Rachel, Bailey, Emmalee, Payge, Wyatt, Annabelle, Alexzander, Madilyn, Sawyer, Kacie and Madison; eleven great-great-grandchildren, Kiana, Gabriel, Scarlett, Kentley, Bryce, Destiny, Makayla, Jaylee, Oliver, Amelia and Charli; one sister-in-law, LaVonne Layman, Washington, Illinois; and many nieces and nephews. 
His parents, wife, one son, Leon Layman, one grandson, Clinton Howard Smith, one great-grandson, Clayton Smith, son-in-law, Ron Sunderman, two sisters, Dorthy Anderson and Juanita Layman and four brothers, Lasco, Shelby, John and Bill Layman, preceded him in death. 
Visitation will be held from 6:00 until 8:00 p.m., Friday, at Robertson-Drago Funeral Home.  Burial will be in the Bethlehem Cemetery.  Memorial contributions may be made to Wounded Warriors Project or St. Jude's Children's Research Hospital and may be left at or mailed to Robertson-Drago Funeral Home, 211 West Main, West Plains, MO  65775.