Curtis Delmar Cozort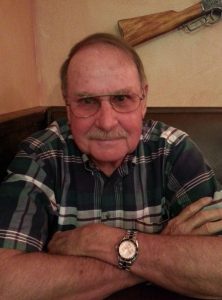 Funeral services for Curtis Delmar Cozort, 87, West Plains, Missouri, will be held at 2:00 p.m., Tuesday, July 5, 2022, in the Rose Chapel of Robertson-Drago Funeral Home.  
Mr. Cozort passed away June 30, 2022, at his home surrounded by loved ones.
He was born August 28, 1934 at Wiseman, Arkansas, the third oldest child of Walter and Gwen Southard Cozort.  The family relocated to West Plains in 1945, where they farmed.  He attended West Plains High School, graduating with the Class of 1952.  On May 2, 1960, he married Anita Eldringhoff, the love of his life.  Mr. Cozort worked several jobs, including his first job as a plumbing inventory clerk with Sears, hauling milk for Steel Dairy (bringing home ice cream was his favorite perk), floor salesman and pump installer at Padgett Hardware, and he traveled local counties as a salesman for Herrman Lumber Company, where he finally retired at the age of sixty-two.  Mr. Cozort was proud of his country and served in the Army National Guard for over thirty years.  His fellow guardsmen were very special to him, and telling those old stories was still something he did in the days prior to his death.  He was an amazing woodworker and leaves multiple heirlooms for the family.  He was an avid gardener and taught his children those skills.  Mr. Cozort continued to help on the farm as long as he was able, working cattle and putting up hay.  He raised cows, goats, and chickens, and an occasional baby deer that couldn't clear the fence.  He was an entertaining storyteller.  He loved to talk about his family history and tell stories of the mischief he caused as a schoolboy.  His smiling face and silent giggle was endearing.  Mr. Cozort served as a deacon at Curry Street Church of Christ, and elder at Central Church of Christ.  He was deeply loved as a church leader by many. 
He leaves behind his wife, Anita; three children, Teresa Drury and husband, Mark; Tim Cozort and wife, Danielle, and Tabby Barley and husband, Pete; five grandchildren; and three great-grandsons. 
He was preceded in death by his parents, two brothers, one sister-in-law, and two brothers-in-law.
Visitation will be held prior to funeral service, from 1:00 p.m. to 2:00 p.m., Tuesday, in the Rose Chapel of Robertson-Drago Funeral Home.  Burial will be at Howell Memorial Park Cemetery.  Memorial contributions may be made to Paragould Children's Home or Polycystic Kidney Disease Foundation and may be left at or mailed to Robertson-Drago Funeral Home, 211 West Main, West Plains, MO  65775.