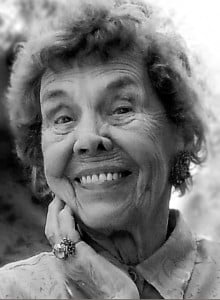 Cynthia May Roby Dunlap, West Plains, 97, died peacefully at her home on Saturday evening, November 7, 2015, from the rupture of an abdominal aortic aneurysm.
Cynthia was born in New Orleans, Louisiana, on April 8, 1918, to Houston Strode Roby, a Southern Pacific Railroad executive, and Irene Hanisee Roby, originally of Vicksburg, Mississippi. A graduate of Eleanor McMain Secondary and Sophie Newcomb College of Tulane University, New Orleans, Cynthia also studied at the Texas School of Mines, El Paso (now known as UTEP) during her father's assignment there. On May 15, 1946, she married her life partner James V. Dunlap, Jr., a U.S. Navy officer and sixth-generation Missourian then stationed in New Orleans. When her husband reentered civilian life as the manager of a University of Missouri research farm, Cynthia managed the sudden transition from a world of southern mansions to one of backwoods outhouses. A later move brought the Dunlaps to Columbia, Missouri, where their eldest son was born, then to Lincoln, Nebraska, where Jim taught at the University while managing his own family farm. Two more sons were born to the couple during the Nebraska years. In 1960, when the family established permanent residence in West Plains, Cynthia entered a lifelong participation in the affairs of the First Christian Church, the P.E.O. Sisterhood, and the Womens' Library Club. Thoughtful and sociable by nature, she attracted a wide circle of friends who will remember her in many different ways and for many different reasons. Following their mother's instruction, the family leaves these friends to their personal remembrances, with a private interment to be conducted at a later date.
Cynthia Dunlap is survived by two sons, David, of West Plains, and Robert, of Ottawa, Kansas. Other survivors include daughter-in-law, Debra Sue Dunlap; granddaughters Melissa, Tessa, Erin, and Callie; grandson James and wife Lauren; three nephews, one niece, and their many children. She was preceded in death by her parents, her husband, one brother, Col. H.S. Roby, Jr. and one son, the late Kevin Dunlap of West Plains.
Memorial donations may be delivered to Robertson-Drago Funeral Home for benefit of the First Christian Church or the Multiple Myeloma Research Foundation.