Danny Lee Riley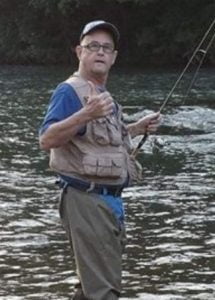 Graveside services for Danny Lee Riley, 66, Moody, Missouri, will be held at 2:00 p.m., Monday, May 18, 2020 at Jolliff Cemetery, under the direction of Robertson-Drago Funeral Home.
Mr. Riley passed away at 2:14 p.m., Wednesday, May 13, 2020, at his home.
He was born August 25, 1953, at West Plains, Missouri, to Freddy "Leon" Riley and Alma Lea Fowler Riley.  Danny graduated from West Plains High School with the Class of 1971.  On February 9, 1974, he was married at West Plains, Missouri to Cindy David.  Mr. Riley worked as a meat cutter, an oil driller and was the owner and operator of Riley Septic Service.  He enjoyed fishing, hunting and CB radios.  Mr. Riley was a member of South Fork Church.
He is survived by his wife, Cindy Riley; three children, Danny Riley II and wife, April, Dennis Riley and Daelyn Riley; daughter-in-law, Katelyn Riley-Adamson and husband, John; and seven grandchildren, Haley, Rylie, Cash, Macy, Alana, Brantley and Hudson.
His parents, one son, David Riley, one daughter, Danyel and mother-in-law, Naomi Wheeler, preceded him in death.
Mr. Riley will lie in state from 5:00 until 9:00 p.m., Sunday, at Robertson-Drago Funeral Home.  Memorial contributions may be made to Neurofibromatosis NF1 NF2 and may be left at or mailed to Robertson-Drago Funeral Home, 211 West Main, West Plains, MO  65775.