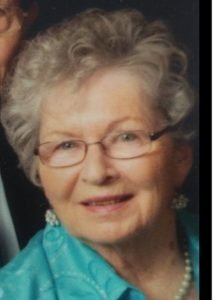 A Memorial Service for Darlene Harriet Holmberg, 89, West Plains, Missouri, will be held at 11:00 a.m., Saturday, June 29, 2019 at First United Methodist Church.
Darlene Harriet Holmberg was born August 11, 1929 in Plainview, Nebraska, the daughter of Harry and Emma Irene (Skalberg) Peterson. She died Tuesday, June 18, 2019 at Sleepy Oak Place in West Plains, Missouri at the age of 89 years old.
Darlene grew up on a farm near Wausa, Nebraska. She graduated Wausa High School in 1947. Upon graduation she attended North Park College, Chicago, Illinois. In 1949 she met and married her high school pen pal from Palestine, Edmond Azzouni, who also attended North Park. Darlene worked for three years for the Illinois Bell Telephone Company until her husband was drafted into the Marine Corp during the Korean War, which took her to San Diego, California. Between 1952-1981, Darlene resided in California. There she worked in the office of a department store until her husband was released from the Marine Corp. Upon his release, they moved to Los Angeles where she worked for the Pacific Telephone and Telegraph Company. In 1956 she adopted her first child, a son, Paul, who has three children Jordan, Mariah and Shauna. In 1962, she adopted a daughter, Renee, who has three children, Christina, Shawnee and Frankie. In 1963, she adopted her last child, a daughter, Shelley, who has one child, Emma. During her time in California she travelled extensively to foreign countries as well as making cross county trips throughout the United States and Canada. She was very active in an adoption agency auxiliary, church activities, and her children's school activities. In the summer of 1981, Darlene moved back to South Dakota working in Sioux Falls. She was the manager of the Bridal Department at Younkers Department Store where she flourished. In 1983, she met Leonard Halweg, and married in 1984. They together bought and sold cattle and managed motels. Darlene was passionate about tax reform for South Dakota and even wrote two initiatives which were approved for the 1994 and 1998 ballot. Darlene always said "God saved the best for last." In July 2001, she reunited with a school boy friend from Wausa, Nebraska, Carlton Holmberg. On November 7, 2001 she married Carlton in Omaha, Nebraska. They moved to West Plains, Missouri in 2005 to be centrally located to family members in various states. They attended the Open Door Worship until its closing. They became members of the First United Methodist Church of West Plains, Missouri. They travelled extensively going on 6 cruises and various other trips. They also spent a lot of time with their granddaughter, Emma from Alabama.
Darlene is survived by her husband, Carlton Holmberg, West Plains, Missouri; three children, Paul Azzouni, Dallas/Fort Worth, Texas, Renee Azzouni Williams,  Lancaster, California and Shelley Azzouni, Birmingham, Alabama; seven grandchildren and six great-grandchildren; one sister, Florence Doran, Lincoln, Nebraska; two brothers, Sterling Peterson (Barb) of Omaha, Nebraska and Merle Peterson (Maxine) of Sioux Falls, South Dakota; and many nieces and nephews.
She was preceded in death by her parents.
Darlene was always grateful to God for the life she lived and the blessings she was given. She was a loving wife and an amazing mother and friend to all. Throughout her journey she met a lot of people along the way but more importantly she touched many people's lives with her warm and kind personality, her gracious heart, her beautiful blue eyes and giving spirit. She was an inspiration to many.
Memorial contributions may be made to Whetstone Boys Ranch and may be left at Robertson-Drago Funeral Home.