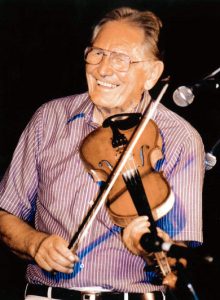 Funeral services for Dean Von Allmen, 92, West Plains, Missouri, will be held at 2:00 p.m., Tuesday, January 30, 2018 at Rover Faith Tabernacle, under the direction of Robertson-Drago Funeral Home.
Mr. Von Allmen passed away at 5:10 p.m., Thursday, January 25, 2018 at NHC Healthcare.
He was born June 9, 1925, at Rover, Missouri, to Elmer Franklin Von Allmen and Nora Belle Jolliff Von Allmen. He was the youngest of eight children. He was educated in the rural schools of Oregon County. Mr. Von Allmen was a World War II veteran serving in the United States Army from 1944-1946; he served under General George Patton in the European Theatre and was assigned to the 94th Infantry Division. He was awarded the bronze star for his combat service.  At the end of the war, he was transferred to the 1st Infantry Division and was stationed in Nuremberg, Germany where he was a prison camp guard. There he witnessed the historical Nuremberg Trials. After the war, Dean returned to Oregon County where he joined his brothers as a feeder pig buyer for eight years and later became a home builder and land developer. In 1976 he was elected and served as the Southern District Judge of the Howell County Court (now known as the Howell County Commission). As a small boy he developed what would become a life-long passion for playing the fiddle. Mr. Von Allmen enjoyed many hours of playing with his many "music buddies" and played for numerous community events. In 2005 he placed second in the Missouri State Fiddling Championship competition. Dean served on Heart of the Ozark Bluegrass Association Board, the Howell County Farm Bureau Board and was a lifetime member of the Veterans of Foreign Wars Post 1828. Mr. Von Allmen enjoyed spending time at his farm at Rover, Missouri, especially hunting with family during deer season. He attended Faith Assembly of God Church in West Plains, Missouri.
He is survived by three children, Lee Von Allmen, West Plains, Missouri, Carolyn Meadow and husband, Darrell, Claremore, Oklahoma and Dennis Von Allmen and wife, Judy, West Plains, Missouri; eight grandchildren, Carma Wheeler and husband, James, Mike Von Allmen and wife, Dalia, Sherri Roy and husband, Mark, all of West Plains, Missouri, Shauna Millikin and husband, Jimmy, Claremore, Oklahoma, Douglas Meadow and wife, Cecily, Bristow, Oklahoma, Christa Garner and husband, Terry, Paden, Oklahoma, Katie Ferguson and husband, Dean, Festus, Missouri and Bryant Von Allmen, West Plains, Missouri; twenty great-grandchildren; four great-great-grandchildren; and several nieces and nephews.
He is preceded in death by his parents, five brothers, Lee, John, Wade, Raymon and Marlin, two sisters, Clara Trantham and Bertha Willard, and a special cousin Faye Kimbrough.
Mr. Von Allmen will lie in state from 6:00 until 9:00 p.m., Sunday and family visitation will be held from 6:00 until 8:00 p.m., Monday, at Robertson-Drago Funeral Home. Burial will be in the Jolliff Cemetery. Memorial contributions may be made to Jolliff Cemetery and may be left at Robertson-Drago Funeral Home.