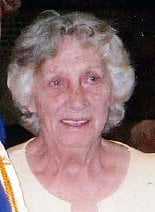 Funeral services for Deloris Belt, 79, Caulfield, Missouri, will be held at 10:00 a.m., Thursday, February 11, 2016 at Elijah Church of Christ, under the direction of Robertson-Drago Funeral Home.
Mrs. Belt passed away at 6:30 a.m., Monday, February 8, 2016 at her home.
She was born December 13, 1936, at Cureall, Missouri, to Emanuel Edward "Sonny" Callahan and Vesta Florence Lawing Callahan.  On November 12, 1956, she was married at Salem, Arkansas, to Charles Norman Belt, who preceded her in death on September 26, 2004.  Mrs. Belt worked at Baxter Lab for several years.  She loved her grandbabies and enjoyed gardening and cooking.  Mrs. Belt was a member of Elijah Church of Christ.
She is survived by six children, Sherry Shipley and husband, Mike, Sidney Belt and wife, Lisa, Robert Belt, Sandra Lair and husband, Layne, Shawana Belt and Ronald Belt and wife, Connie; fifteen grandchildren, Becky Grisham and husband, Keith, Teresa Evans and husband, Darin, Joni Brege and husband, Phillip, Michael Belt and wife, Sarah, William Belt, Bethany Belt Stone and husband, Darren, Asherlee Marshall, Daniel Belt, Nathaniel Lair, Aubrey Lair, Blaine Lair, Tiana Dunnihoo, Dakota Dunnihoo, Dylan Dunnihoo and Morgan Hunter Hyatt Belt; fifteen great-grandchildren; four brothers, DeWayne Callahan and wife, Shirley, Verble Callahan and wife, Lorraine, Leon Callahan and Leolen Callahan and wife, Lisa; two sisters, Murline Peterson and Loverne DeShazo and husband, Mike; and many nieces and nephews.
Her parents, husband, one sister, Vivian Robinson and four brothers, Charles, Ermal, Larry and Fabin Callahan, precede her in death.
Visitation will be from 6:00 until 8:00 p.m., Wednesday, at Robertson-Drago Funeral Home. Burial will be in the Elijah Cemetery.  Memorial contributions may be made to Fair Haven Children's Home and may be left at Robertson-Drago Funeral Home.