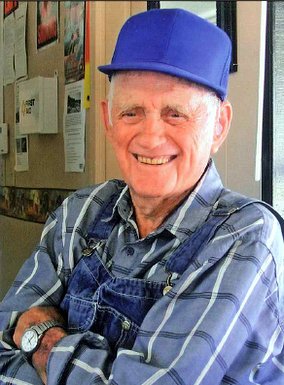 Funeral services for Delphia W. Brooks, 91, West Plains, Missouri, will be held at 10:00 a.m., Monday, June 9, 2014 in the Rose Chapel, Robertson-Drago Funeral Home.
Mr. Brooks died 11:15 a.m., Friday, June 6, 2014 in West Vue Nursing Center. He was born August 17, 1922 at Gid, Arkansas to Charles Brooks and Josephine Jones Brooks.  On December 15, 1945, he was married at Gid, Arkansas to Lillian Irene Adkisson who preceded him in death on July 7, 1999.  Mr. Brooks worked at Cloud Oak Flooring and was a well known farmer in the West Plains area.    He enjoyed hunting, his four-wheeler, camping and spending time with his family.  Mr. Brooks was a Charter member of the United Freewill Baptist Church of West Plains.
He is survived by two children, Jimmie Glen Brooks, wife, Cheri, Republic, Missouri and Patricia Lynn Newsom, husband,  Ronnie, West Plains, Missouri; five grandchildren, Jessica Gibson, Taylor Brooks, Hunter Brooks, B. J. Newsom and Amanda Woodyard, husband, Dewayne; three great-grandchildren; Jayke Gibson, Cody Gibson and Cooper Woodyard; one brother, Floyd Brooks, wife, Loretta, Peoria, Illinois; two sisters, Imogene Vanetta, husband,Ray, Mt. Pleasant, Arkansas and Doris Jean Jackson, Melbourne, Arkansas;  many nieces and nephews; and long time special friend, Leverne Hightower.
His parents, wife, six brothers, Ezra, Everett, Elgin, Esbie, Ellis, Lloyd and one infant brother and one sister, Iceaphine Shaver, precede him in death.
Visitation will be from 6:00 until 8:00 p.m., Sunday, June 8th, at Robertson-Drago Funeral Home. Burial will be at the Oak Lawn Cemetery. Memorial contributions may be made to Cerebral Palsy in Honor of Jayke Gibson and may be left at Robertson-Drago Funeral Home.