Donald Elmer Kenslow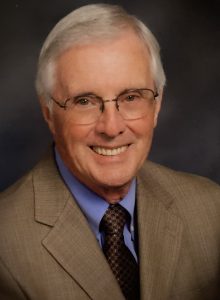 Donald Elmer Kenslow, 82, Springfield, Missouri, formerly of West Plains, passed away at 8:40 p.m., Wednesday, December 2, 2020, at Cox Medical Center South, Springfield, Missouri.
He was born December 5, 1937, at South Fork, Missouri, to Herbert Elmer Kenslow and Juna Marie Hunter Kenslow.  On June 26, 1960, he was married at West Plains, to Judy Warden.  Mr. Kenslow was the owner and operator of Don's Goodyear for many years and had worked at Stein Buick for nineteen years.  He enjoyed fishing and admiring autos.  Mr. Kenslow was a member of the First Church of God, West Plains.
He is survived by his wife, Judy Kenslow, of the family home; two children, John Kenslow and wife, Susie, West Plains and Tami Merrick and husband, David, Willard, Missouri; seven grandchildren, Jeffery Kenslow, Courtney Risner and husband, Seth, Corbin Russell, Chelsea Orchard and husband, Brandin, Traves Merrick, Daphne Wilkins and husband, Travis and Lili Merrick; twelve great-grandchildren; two brothers, Charles Kenslow and wife, Shirley, West Plains and Dennis Kenslow and wife, Edna, Kansas City, Missouri; and several nieces and nephews.
His parents and one sister-in-law, Joyce Kenslow, preceded him in death.
A private burial was in the South Fork Cemetery.  Memorial contributions may be made to South Fork Cemetery and may be left at or mailed to Robertson-Drago Funeral Home, 211 West Main, West Plains, MO  65775.