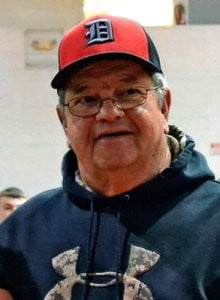 Funeral services for Donald Ray Crites, 69, Caulfield, Missouri, will be held at 2:00 p.m., Tuesday,, December 8, 2015 at the Ball Church of Christ near Dora, Missouri under the direction of Robertson-Drago Funeral Home.
Mr. Crites died 6:15 a.m., Saturday, December 5, 2015 at his home. He was born July 23, 1946 at West Plains, Missouri to Jack Crites and Mildred Angeline Cobb Crites. Mr. Crites graduated from the Dora High School with the Class of 1963 and on August 28, 1965, was married at Gainesville, Missouri to Sharlene Newton. Before his retirement, Mr. Crites was employed as a shed foreman with the Missouri Department of Transportation. He enjoyed hunting, fishing, woodworking and spending time with his grandchildren and attending their many activities. Mr. Crites was a member of the Dawt Church of Christ.
He is survived by his wife, Sharlene Crites, of the family home; two children, Rick Crites, wife, Sarah, Columbia, Missouri and Mindy Trail, husband, Eric, Dora, Missouri; five grandchildren, Makala, Taylor, Claire, Hannah and Blake; three brothers, Robert "Bob" Crites, West Plains, Missouri, Jack Crites, Jr., wife, Janella, Dora, Missouri and Bill Crites, wife, Paula, Bakersfield, Missouri; one sister, Kathy Crites, Tecumseh, Missouri; and several nieces and nephews.
His parents precede him in death.
Mr. Crites will lie in state from 2:00 p.m., Monday, December 7th until 12:00 (noon), Tuesday, December 8th, at Robertson-Drago Funeral Home. Burial will be in the Ball Cemetery. Memorial contributions may be made to the Ball Cemetery and left at Robertson-Drago Funeral Home.