Donna Jean Henry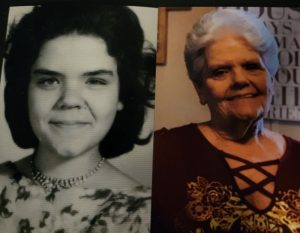 Graveside services for Donna Jean Henry, 71, West Plains, Missouri, will be held at 2:00 p.m., Saturday, June 24, 2022, at Mount Zion Cemetery (White Church), under the direction of Robertson-Drago Funeral Home.  
Ms. Henry passed away Monday, June 20, 2022, following a short illness.  As a foster parent to over 150 children, Donna was surrounded by many of the children that she loved so much and, as a Christian, she was firm in her belief that she would join her Heavenly Father when she left this world.
Donna was born in St. Clair, Illinois on September 01, 1950, to Junior Gene Henry and Martha Amy Noel. She was blessed with two loving parents, but also a grandmother that resided in the same home with her and, over the years, Donna recounted many funny and endearing stories about her Grandma Henry and their time together. Donna was born with severe scoliosis that required surgery very early in her young life. As a result, she was placed in a body cast until the healing process was complete, so she missed out on a lot of the normal activities of other children her age. As she aged, she developed a hunger for knowledge that continued to the end of her life. Donna was a licensed beautician, a respiratory therapist, and, after she turned sixty, she received three bachelor's degrees in Psychology, History, and Sociology. She spent many weekends and summer days visiting historical sites in Missouri, Arkansas, and Tennessee. Donna had a great love for writing historical fiction and, before her health failed, she had amassed several stories in her collection.  After retiring as a respiratory therapist from Ozark Medical Center in 1994, Donna was led down a path that would lead her to one of her lifelong dreams of being a mother to a houseful of children. What began as one little girl, soon turned into twelve little girls and her biological son. She welcomed numerous children into her home as a foster parent throughout the years and many of those children became adults that remained in contact with her until she left this earth.  The year 2006 brought two losses that shook Donna to the core. In February, her dear mother lost her battle with lung cancer, and then soon after in March, Donna's father passed away after multiple strokes. In 2007, Donna lost one of her beloved daughters, Galina, age twelve, to a lifelong illness and was left to grieve her passing. In July 2021, Donna lost her brother, Lonnie Henry, to Covid and continued to mourn his passing until her time here was over.  Donna's greatest wish has been and remains that all her loved ones form a personal relationship with her Savior, Jesus Christ, and that they seek Him, searching His Word, and abiding by it in all aspects of their lives.
Left behind to cherish Donna's memory is her son, Kevin Hollibaugh, West Plains, Missouri; daughters, Tawny Henry, Republic, Missouri, Alexandra Grisham (Kyle) Mountain Grove, Missouri, Fidana Henry, Ana Henry, Makayla Henry, and Kaitlyn Henry, of the home, Marci Rogers, Thayer, Missouri, Annakate Henry, West Plains, Missouri, and Abbie Leisenring (CJ), Harrisburg, Arkansas; and her grandchildren, Samantha Hollibaugh, West Plains, Missouri , Mackynleigh, Kynadee, and Lainey Burns, Oklahoma, Weston and Kat Grisham, Mountain Grove, Missouri, and Lynnley, Laina, and Lucellia Leisenring, Harrisburg, Arkansas; bonus son, Rocky Rogers (Beverly) of the home, Jessika Gray (Martin) and their four children, Salem, Missouri, Jennipher Mueller and her son, Teegan, West Plains, Missouri, David Woods (Amber) and their three sons, Lincoln, Nebraska ; and Donna's constant companion, Ginger, aka little fat dog.  She also leaves behind five siblings that she loved unconditionally. Lorene King (Jimmie), West Plains, Missouri, Thomas Henry (Lana), Neosho, Missouri, James Henry (Janice), Cassville, Missouri, Robert Henry (Kim), Summersville, Missouri, Joseph Henry (Donna), Thayer, Missouri, and sister-in-love, Christy Henry, Raymondville, Missouri.  Donna also leaves numerous nieces and nephews, as well as great-nieces and nephews, and so forth.
Burial will be at Mount Zion Cemetery, White Church, Missouri.  Memorial contributions may be made to autism awareness and may be left at or mailed to Robertson-Drago Funeral Home, 211 West Main, West Plains, MO  65775.