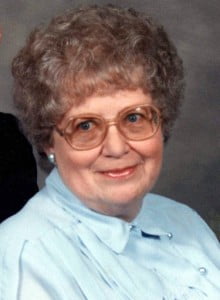 Funeral services for Dorothy Frances Koons, 90, West Plains, Missouri, will be held at 10:00 a.m., Friday, April 8, 2016 at Central Calvary Baptist Church, under the direction of Robertson-Drago Funeral Home.
Mrs. Koons passed away at 4:14 a.m., Tuesday, April 5, 2016 at West Vue Nursing Center.
She was born November 1, 1925, at Jersey City, New Jersey, to William Rohrer and Martha Frances Gude Rohrer.  In 1945 she was married to Russell Gray and in 1968 she was married to Marion Koons who passed away on November 13, 1997.  Dorothy was a well-known pianist and organist.  She gave piano lessons, was a great seamstress and enjoyed crocheting, knitting, farming, gardening and her pets.  Mrs. Koons was a member of Central Calvary Baptist Church where she was the organist and choir director for twenty-seven years.
She is survived by three children, Lois Newman, Marty Oakley and Barbara Housley and husband, David; nine grandchildren, Carrie Harper, Kristin Poole, Jamie Wymer, Lori Sheppeard, Cory Ballard, Luke Oakley, Joe Oakley, Jessica Gray and Jennifer Gray; ten great-grandchildren; two sisters, Margie MacCormick and Ethel Madden; and her extended Koons family.
Her parents, husbands, two children, Russell Gray, Jr. and Cindy Hammel and son-in-law, Marion Newman, precede her in death.
The family would like to extend their appreciation to Dorothy's church family for being so kind and caring.
Visitation will be from 6:00 until 8:00 p.m., Thursday, at Robertson-Drago Funeral Home. Burial will be in the Hale Cemetery.  Memorial contributions may be made to Central Calvary Baptist Church and may be left at Robertson-Drago Funeral Home.