Dorothy Louise Johnson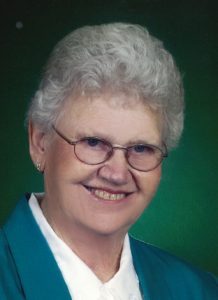 Funeral services for Dorothy Louise Johnson, 93, Pomona, Missouri, will be held at 10:00 a.m., Monday, December 27, 2021 in the Rose Chapel of Robertson-Drago Funeral Home.  
Mrs. Johnson passed away at 7:45 p.m., Tuesday, December 21, 2021, at NHC.
She was born August 9, 1928, at Peace Valley, Missouri, to Raymond Mancil Baser and Georgia Gilliam Baser.  She attended elementary school at Boatman, a one-room school in Peace Valley, and then attended Peace Valley High School through tenth grade.  On March 15, 1946, she was married at Salem, Arkansas, to Carroll Wayne Johnson.  Mrs. Johnson was head housekeeper at NHC.  She enjoyed quilting, cooking, and baking, and she loved spending time with family.  She was a member of New Hope Baptist Church.
She is survived by her husband, Carroll Johnson; one son, Donald Johnson and special friend, Carol Freeman, Pomona, Missouri; one daughter-in-law, Linda Johnson, Pomona, Missouri; four grandchildren, Brandon Johnson, Thayer, Missouri, Schanda Steele and husband, Mackenzie, West Plains, Missouri, Kristi Lansdown and husband, Doug, West Plains, Missouri, and Stephanie Pierce and husband, Dugan, West Plains, Missouri; eleven great-grandchildren, Kelsey, Katelen, Jaylen, Kaylee, Jadon, Amariah, Graysen, Van, Rhiannon, Karsen, and Hayden; five great-great-grandchildren, Aubree, Benjamin, Kacy, Fisher, and Blakely; and two sisters, Margie Mitchell and Twila Reid.
Her parents, one son, Gary Johnson, one infant grandson, Ronald Johnson, two brothers, Mancil Baser and her twin, Donald Baser, three sisters, Nila, Burnadean, and Oreila, two brothers-in-law, Johnny Reid and Darroll Johnson, and her father-in-law and mother-in-law, Ray and Edith Johnson, preceded her in death.  
Visitation will be held from 6:00 p.m. to 8:00 p.m. Sunday, at Robertson-Drago Funeral Home.  Burial will be at Howell Memorial Park Cemetery.  Memorial contributions may be made to National Kidney Foundation and may be left at or mailed to Robertson-Drago Funeral Home, 211 West Main, West Plains, MO  65775.