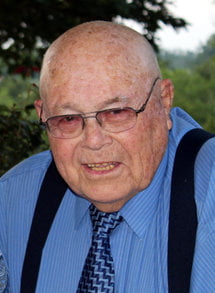 Funeral services for Doyle Fields Garner, 81, Gepp, Arkansas, will be held at 2:00 p.m., Monday, November 16, 2015 at Bakersfield Church of Christ, under the direction of Robertson-Drago Funeral Home.
Mr. Garner passed away at 5:35 a.m., Friday, November 13, 2015 at his home.
He was born May 4, 1934, at Gepp, Arkansas, to Clarence Fields Garner and Fannie Ivester Garner.  He graduated from Bakersfield High School. On May 25, 1973, he was married at West Plains, Missouri, to Ruby Holstine.  Mr. Garner was a farmer and a Minister; he served at Prairie Grove Church of Christ for many years.  He was an excellent woodworker, loved to read and was an avid Cardinals baseball fan.  He enjoyed spending time with his grandchildren and in his younger years, he enjoyed hunting and fishing.
He is survived by his wife, Ruby Garner; four children, Gary Wayne Garner, LeAnn Garner Tice and husband, Greg, James Ray Garner and wife, Lacey and Michael Alan Garner; four grandchildren, Kaitlin Tice, Jarett Tice, Noah Fields Garner and Ella Grace Garner; two aunts, Lillian Garner, who turned one-hundred this year and Viva Lee Ivester Garner.
His parents, first wife, Lozell Greer Garner and one infant sister, Rosa Lee, precede him in death.
Visitation will be from 4:00 until 6:00 p.m., Sunday at Robertson-Drago Funeral Home. Burial will be in the County Line Cemetery.  Memorial contributions may be made to Paragould Children's Home and may be left at Robertson-Drago Funeral Home.