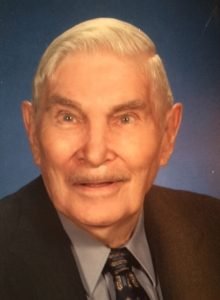 A memorial service for Dr. Paul Alan Kiger, DVM, 87, West Plains, Missouri, will be held at 2:00 p.m., Saturday, August 27, 2016 at First Baptist Church.
Dr. Kiger passed away peacefully at 5:10 p.m., Tuesday, August 16, 2016 at West Vue Nursing Center.
He was born March 25, 1929 in Maryville, Tennessee to John & Helen (Kimball) Kiger. Following high school, Paul attended the University of Tennessee where he ran cross country. In May of 1950, Paul joined the Navy, where achieved the rank of Lieutenant as a pilot during the Korean Conflict, serving until December of 1954. He later continued his education at Kansas State University in Manhattan, Kansas where he earned his Doctor of Veterinary Medicine Degree in 1959.
While stationed in Corpus Christi, Texas with the Navy, Paul met Shirley Gracelyn Clayton. The two were married on July 7, 1951. Together they raised six children. Paul worked as veterinarian in private practice from 1959 until 1977 and as a food safety inspector with the USDA from 1977 until he retired in 1991.
Paul was a member of the American Legion, Lions Club, the Optimist Club and Boy Scouts of America, including serving as Scout Master for Troop 238 in Adrian, MO from 1972 until 1977. He served his church, First Baptist Church of West Plains, in various capacities. Most notably, he was instrumental in operating the First Baptist Church Food Pantry for many years. He also volunteered at Ozarks Medical Center and the OMC Thrift Store.
Paul was preceded in death by his parents, John Herbert and Helen (Kimball) Kiger, his wife, Shirley Gracelyn (Clayton) Kiger, one grandson, Craig Alan Kiger and one great-grandson, Aiden Gabriel Lawrence.
He is survived by six children, James Alan Kiger and wife, Vicki, John Clayton Kiger, Jeffrey Lee Kiger and wife, Maryann, Joel Chandler Kiger, Jeremy Charles Kiger and Janet Stevenson and husband, Mitch; eleven grandchildren; thirteen great-grandchildren; one sister, Sara Jo Wilson and husband, Carl; and several nieces and nephews.
In lieu of flowers, memorial contributions may be made in his honor to the First Baptist Church Food Pantry, the American Cancer Society or Water For Life, and may be left at Robertson-Drago Funeral Home.  Burial will be held at a later date at St. Joseph's Cemetery, Beeville, Texas.