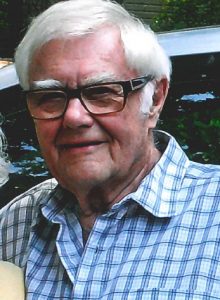 Funeral services for Dr. Robert Julius Wiehe, 86, West Plains, Missouri, will be held at 12:00 Noon, Monday, August 29, 2016 at the Langston Street Chapel of Robertson-Drago Funeral Home.
Dr. Wiehe passed away Thursday, August 25, 2016 at his home.
He was born June 22, 1930, at St. Charles, Missouri, to Delphine Meyer Rauch and was adopted by Erwin Wiehe at age nine.  Dr. Wiehe was a veteran, having served with the United States Army.  On November 8, 1952, he was married at Solothurn, Switzerland, to Ursula Tholl.   Dr. Wiehe was a leader in the Chiropractic profession.  He pioneered the field of Chiropractic diagnosis and treatment of chronic internal metabolic disease.  In 2007 Dr. Wiehe was recognized as a founding father of the D.A.B.C.I.  Program (Diplomate of the American Board of Chiropractic Internists). Additionally, Dr. Wiehe led his profession in the giving of lectures and seminars.  His expertise covered office procedure and practice management as well as internal disease.  He gave leadership to many Chiropractic organizations and was awarded the honor of Chiropractor of the Year at the 74th annual convention of the Missouri State Chiropractic Association.   Dr. Wiehe always loved teaching and writing manuals over a wide range of topics.  He was a Gideon, an I.F.R. Pilot, trumpet player, avid fisherman and enjoyed seminar speaking and scuba diving.  Dr. Wiehe was a Christian.
He is survived by his wife of sixty-three years, Ursula Wiehe, of the family home; three children, Marilyn Mitchell, San Antonio, Texas, Dr. Kenneth Wiehe and wife, Gail, Paris, Illinois and Kurt Wiehe and wife, Melissa, West Plains, Missouri; eight grandchildren, Daniel Wiehe and wife, Rebecca, Katelyn Wiehe, Matthew Mitchell, Micaela Wiehe, Madison Wiehe, Nathan Wiehe, Natalie Wiehe and Melia Wiehe
His parents and one granddaughter, Natalie Mitchell precede him in death.
Dr. Wiehe will lie in state from 5:00 until 9:00 p.m., Sunday, at Langston Street Chapel of Robertson-Drago Funeral Home. Burial will be in the Howell Memorial Park Cemetery.  Memorial contributions may be made to the Bethlehem Christian Academy and may be left at Robertson-Drago Funeral Home.