E. Dale Mantooth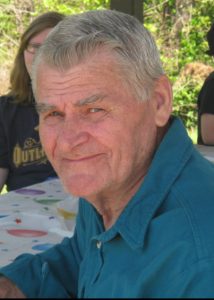 A life celebration will be held at 2:00 p.m., Saturday, January 9, 2021, at His Place in West Plains, Missouri for E. Dale Mantooth, 83, West Plains, Missouri.
Mr. Mantooth went home to Heaven on December 1, 2020.  He was blessed to be at his home and in the presence of his family at the time.
He was born October 3, 1937 in Bartholomew County, Indiana, to the late James Anderson and Gracie May Mantooth. Dale graduated from Harrisburg High School in 1956. He married the love of his life Brenda Jane Warrick on August 7, 1960 and they had 60 glorious years together. Dale was a farmer through and through and dearly loved his family and gardening. He loved the Lord and worshipping Him at His Place in West Plains, Missouri.
He is survived by his wife, Brenda J. Mantooth of West Plains and two daughters and their husbands, Penny Lynn and Troy D. Keller of Rushville, Indiana and Dana Mantooth and Johnny E. Tompkins of West Plains, Missouri; grandchildren are Joshua D. Elson, Jennifer M. Palmer, Cody A. Tompkins, Colt B. Tompkins and Skyler D. Tompkins; Indiana grandchildren are Matthew D. Elson, Ashla N. Himes, Victoria A. Crowder and Zachary D. Keller. He also has many great-grandchildren and great-great-grandchildren, all of whom he loved very much.
He was preceded in death by his oldest daughter, Lisa May Elson of West Plains, Missouri, one sister, Edna May Tatman of Indiana and two brothers Paul Edward Mantooth of Arizona and Harold Eugene Mantooth of Indiana.