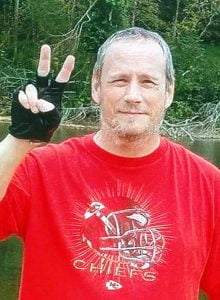 A Memorial Service for Edward Lee Hoover, Jr., 57, West Plains, Missouri, will be held at 2:00 p.m., Saturday, February 23, 2019 in the Rose Chapel at Robertson-Drago Funeral Home.
Mr. Hoover passed away suddenly on Monday, February 18, 2019 at Barnes-Jewish Hospital, St. Louis, Missouri.
He was born March 1, 1961, at Kansas City, Missouri, to Edward Lee Hoover, Sr. and the late Beverly Kay Bandy Cole; he was the oldest of two sons.  Ed graduated from Oak Park High School in Kansas City, Missouri.  On August 28, 1982, he was married to his longtime sweetheart, Dana Diane Sheets; they were married for 36 wonderful years and were together for 40 years.  Ed worked as an assembler at the General Motors Plant in Shreveport, Louisiana for several years.  He and Dana later returned to Missouri and made their home in West Plains.  Ed was a devoted son, brother, grandson, husband, father and Papa who loved hunting, fishing and riding his motorcycle.  He had a great passion for his Labrador Retrievers, Griz and Sampson.
Left to cherish his memory are his wife, Dana Hoover; his daughters, Melissa Hawkins and husband, Jesse, step-son, Ryan and their unborn child; Alyssia Smith and husband, Joey, and their children, Alexis, Aryana and Ayla; and Samantha Duncan and husband, Cody; his father, Edward Lee Hoover, Sr., and wife, Kim; one brother, James Allen Hoover; and many extended family members and friends.
His mother, Beverly Bandy Cole and his grandparents, Arthur Edward Hoover and Emogene Winifred Hoover and George Allen Bandy and Wilma Jeanne Bandy, preceded him in death.
Visitation will be held from 6:00 until 8:00 p.m., Friday, at Robertson-Drago Funeral Home.  Memorial contributions may be made to American Cancer Society and may be left at Robertson-Drago Funeral Home.