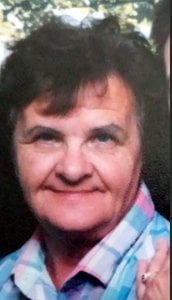 Edith Alberta Druce, 91, Alton, Missouri, passed away at 2:40 a.m., Friday, November 10, 2023, at Ozarks Medical Center.  
She was born March 8, 1932, at Greenfield, Ohio, to Ralph and Jesse Helterbrand.  In 1968, she was married at Greenfield, Ohio, to Thomas Ellsworth Druce, who preceded her in death on May 15, 2020.  Before her retirement, Mrs. Druce was a nursing aid.  She loved her family and spending time with her grandchildren.  She enjoyed having family gatherings and get togethers with friends.  She loved living in the country, where she lived all of her life.
She is survived by four children, Donna Mercer, Greenfield, Ohio, Kevin May, Washington Courthouse, Ohio, Gary Druce and wife, Ann, Cheyenne, Wyoming and Thomas Druce, Alton, Missouri; nine grandchildren; twelve great-grandchildren; sixteen great-great-grandchildren; two brothers, Bob Helterbrand, Maryville, Tennessee and Leonard  Helterbrand, Greenfield, Ohio; and many nieces and nephews. 
Her parents, husband, two sons, Steven and Michael May, four sisters, Dorothy VanDyke, Imogene  Pough, Maxine VanDyke and Thelma Taylor and one brother, Daniel Helterbrand, preceded her in death.  
Mrs. Druce will be laid to rest at Dunkard Ridge Cemetery, Elmsville, Ohio.  Arrangements under the direction of Robertson-Drago Funeral Home,