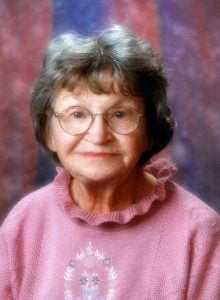 Funeral services for Edith Bertha Brouillette, 94, West Plains, Missouri, will be held at 2:00 p.m., Saturday, January 13, 2018 in the Rose Chapel at Robertson-Drago Funeral Home.
Mrs. Brouillette passed away at 4:42 p.m., Thursday, January 4, 2018 at Ozarks Medical Center.
She was born July 24, 1923, at Dona Ana, New Mexico, to Clarence Liebert and Bertha Barncastle Liebert. She was married in 1945 at Denver, Colorado, to Donald Eugene Brouillette; the couple was married for fifty years at the time of his death in 1995. Mrs. Brouillette spoke Spanish, loved music of all kinds and enjoyed going to see shows and movies; one of her greatest joys was being a grandmother. In 2006, she went to live with her daughter, Janice and son-in-law, Terry and enjoyed twelve years of them as her caregivers. Mrs. Brouillette was of the Catholic faith and was a member of St. Louis Catholic Church, Englewood, Colorado.
She is survived by four children, Janice Martin, West Plains, Missouri, Daniel Brouillette and wife, Elvira, Kurtistown, Hawaii, John Brouillette, Littleton, Colorado and Leon Brouillette, Denver, Colorado; daughter-in-law, Erlinda Pinelli, State of Colorado; and six grandchildren, Glain Martin and wife, Molly, Jessica Conyers and husband, Jimmy, Andre Brouillette, Liana Brouillette, Robbie Brouillette and his sister, Dawn.
Her parents, husband, one son, James Brouillette, son-in-law, Terry Martin and two brothers, Pat Liebert and Bill Liebert, preceded her in death.
Mrs. Brouillette will lie in state from 5:00 until 9:00 p.m., Friday, at Robertson-Drago Funeral Home. Burial will be in the Eaton Cemetery. Memorial contributions may be made to Eaton Cemetery and may be left at Robertson-Drago Funeral Home