Edith Evelyn Uphaus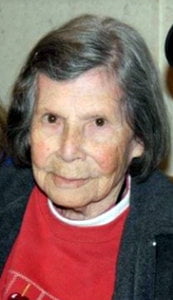 Graveside services for Edith Evelyn Uphaus, 103, West Plains, Missouri, will be held at 10:00 a.m., Wednesday, May 26, 2021 at Oak Lawn Cemetery, under the direction of Robertson-Drago Funeral Home. 
Mrs. Uphaus passed away at 7:15 a.m., Saturday, May 22, 2021, at her home. 
She was born October 9, 1917, at Koshkonong, Missouri, to Daniel Edward Lasater and Katie Victoria Fisher Lasater.  On November 21, 1934, she was married at Jackson, Michigan, to Floyd Fredrick Uphaus, a WWI Veteran, who preceded her in death on January 3, 1972.  She loved the beauty of roses and so her rose gardens were the most beautiful.  She had the greenest thumb, the purest heart and an unwavering faith and because of these three things, everything and everybody in her life were blessed beyond worth.  Her soul belongs to God and is resting well in His presence today and forever.  She became a wife, a mother and a bonus mother to many other children at a very young age and during the war.  She was widowed by the greatest man she'd ever known.  Her life cleared and shined a path for others to see the pure love of Christ.  Mrs. Uphaus lived a life according to a strong faith in God.  She was a loving mother and grandmother.  A woman who lived her faith and passed it along to her family and everyone she knew.  She provided love and nurturing and a safe place to everyone.  A warm, loving and kind woman and made everyone feel they were her "favorite".
She is survived by two children, Gordon Floyd Uphaus and Shirley Evelyn Uphaus Cochran; six grandchildren, Ronnie Uphaus and wife, Shelly, Terry Julian and husband, Gayle, Vance Cochran and wife, Charlotte, Jack Cochran and wife, Skyla, Sylvia Hershenson and husband, Chris and Amanda Schoonover and husband, Tim; fifteen great-grandchildren; eight great-great-grandchildren; and several special nieces and nephews.   
Her parents, husband, one great-grandson, Johnny Robinson, six brothers, Harry, Herbert, Rayburn, Oran, Byron and Virgil, two sisters, Gladys and Irene and one son-in-law, Russell Cochran, preceded her in death.