Eddie Kimes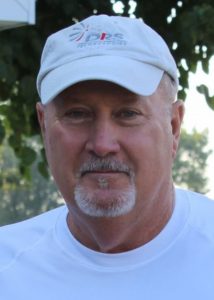 A memorial service for Eddie Kimes, 71, West Plains, Missouri, will be held at 2:00 p.m., Friday, December 20, 2019, at First Baptist Church, West Plains, Missouri, under the direction of Robertson-Drago Funeral Home.
Mr. Kimes passed away at 10:50 p.m., Thursday, December 5, 2019, at his home, with his wife, Brenda and two daughters, Durden and Audrey by his side.
Eddie was a Veteran having served in the United States Army. He graduated from Greenwood High School and graduated from Mississippi State University with a BS in Business and Management.  He had a reputation of driving too fast on his motorcycle and the ability to ride both up and down the stairwells on his motorcycle. Eddie began his 41 year career at Southwest Truck Body now known as DRS when he moved to West Plains in 1976. He was hired as a contract administrator and finished his career as Vice President of operations. If you didn't know him and you ask him what he did for a living he would say he was a welder. He was responsible for the successful integration of the HEMAT and M1000 production lines. He truly loved his work and took great joy in solving problems. He was a mentor to many who knew him and loved to see others succeed. If this obituary could have been done in excel, he would have loved that. Eddie loved planning for a trip as much as taking them. His loves outside of work and his co- workers were his family, hunting, fishing, being on his tractor and his Garmin. Eddie was a conservationist at heart and invented many of his own contraptions. He was a vivid dreamer, counted steps in his head when he went up stairs and loved to tell stories with a "Big Eddie" in his hand. Eddie would rather have a stick in his eye than go to Silver Dollar City, get his teeth cleaned or listen to anything Bob Dylan.
He is survived by his wife, Brenda Kimes, of the family home; two daughters, Durden Keathley and husband, Chris, Parsons, Kansas and Audrey Garard and husband, Jonathan, Springfield, Missouri; two step-sons, Ian Tapson and wife, Jamie, Clermont, Florida and Roger Tapson and fiancé, Brandy, Laramie, Wyoming; six grandchildren, Samantha Barton and husband, Levi, Jake, Kirsten and Kamryn Keathley, Ethan and Dane Garard; four step-grandchildren, Aria, Camden, Malia and Zander Tapson; two sisters, Nancy McCurdy and husband, Robert, Cruger, Mississippi and Grace Bowden and husband, Steve, Fort Worth, Texas; several nieces and nephews; and many friends.
His parents preceded him in death.
Memorial contributions may be made to The Eddie Kimes Memorial Fund, and may be left at Robertson-Drago Funeral Home.
He will be missed by us all here on this earth, but our faith is strong and we have comfort in knowing we will see him again soon. Life is short here in this physical world and even though we have all suffered a great loss, we rejoice that he is now able breathe freely again.