Eleanor Pace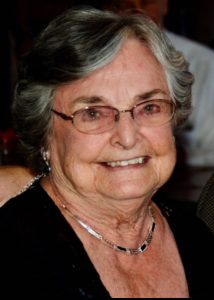 A memorial service for Eleanor Pace, 90, West Plains, Missouri will be held at 10:30 a.m., Saturday, September 19, 2020, at St. Mary's Catholic Church, West Plains,  Missouri.
Mrs. Pace passed away peacefully at home on March 28, 2020.
Eleanor was born on April 3, 1929 in Claryville, Missouri to Frances and Elvis Brewer, the youngest of 5 children. She was raised on a farm in Perry County, Missouri where she worked all the chores with her family and attended Mass every Sunday. She graduated from St. Mary's High School in 1947 and began working at the International Shoe Corporation in Perryville, Missouri. In 1954 she moved to St. Louis, Missouri to work at Vickers Electric Company where she met her husband, William E. Pace. They married on April 7, 1956. Eleanor continued to work while raising her family and retired from Boat Levelers Company after 25 years of service. Eleanor loved to cook for her family and watch the St. Louis Cardinals while enjoying a Bud Light. She was happiest when surrounded by her children and grandchildren. She enjoyed playing Rummikub with her friends and she cherished her visits with her sister, Marie. We will miss her dearly. 
She is survived by her three children; Scott (Peggy) Pace, Edwardsville, Illinois; Susan (Richard) Bowles, West Plains, Missouri; Barbara (Colin) Kerwin, Dallas, Texas; eight grandchildren, Emily (Jimmy) Connell, Molly (Drew) Kluemke, Danny (Jenni) Meyer, Tommy (Kylie) Meyer, Joey Meyer (Stephanie Joiner,fiancée), Erin Kerwin and Luke Kerwin; five great-grandchildren Eleanor Connell, Seamus Connell, William Meyer, Ava Meyer and Elliot Meyer; one brother, Ivan (Yvonne) Brewer; one sister Marie Modde; and many nieces and nephews.
She is preceded in death by her parents, her beloved husband of 55 years, William E., her brother, Elliot Brewer, her sister, Lavina Moranville and her granddaughter, Ann Kathryn Kerwin.
Arrangements under the direction of Robertson-Drago Funeral Home.