Elizabeth Ann (Betty) Scrima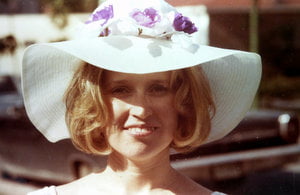 Elizabeth Ann (Betty) Scrima, 79, Oakland, Arkansas passed away at 8:33 a.m., Sunday, October 3 2021, at Cedarhurst of West Plains.  
She was born July 28, 1942, at Oak Lawn, Illinois, to Arthur Meyers and Catherine Walsh Meyers.  On May 22, 1971, she was married at Arlington Heights, Illinois, to Michael Scrima; the couple celebrated their 50th wedding anniversary this year.  Betty worked as a Systems analyst for Standard Oil before deciding to make a career change.  In 1983, she and her husband, Mike, purchased the Oakland Lodge located in Oakland, Arkansas and relocated there in 1985.  Betty enjoyed walking on Ozark Isle with many of her animals while training for her marathon.  Some of the dogs had plenty of personality; Hoover, Ginger, Herby, Kala, Shep, Abbey, Sam, Rocky, Patches and of course their famous cat, Jitterbug, he loved all of the Scrima's customers.  There were many cats that were so dear to her heart.  For several years Betty and her brother, Billy traveled to Chicago to run the Chicago marathon.  In 2007, she received an official certification that she had completed the marathon.  After moving to Oakland, Betty volunteered for the Baxter County Humane Society.  In addition, she served on the board as a member of the Mountain Home Chamber of Commerce and served as a board member of the Ozark Mountain Region Association.  Betty will be missed dearly by all who loved her.
She is survived by her husband, Michael Scrima, of the family home; one son, Nicholas Meyers and wife, Linda, Schaumburg, Illinois; one step-son, Michael Jr., Carpentersville, Illinois; one granddaughter, Justine Enderlin and husband, Cory; one brother, William Meyers, of the State of Texas;  one sister, Carol Scott and husband, Richard, Naperville, Illinois; and several nieces and nephews.
Her parents and one brother, Johnny Meyers, preceded her in death.   
A memorial service will be held on Saturday, November 6, 2021, at 11:00 a.m., at the Hill Top Baptist Church located on Oakland Road next to the Oakland Community Center.  A celebration of Betty's life will follow.  Memorial contributions may be made to Alzheimer's Foundation or Three Rivers Hospice and may be left at or mailed to Robertson-Drago Funeral Home, 211 West Main, West Plains, MO  65775.