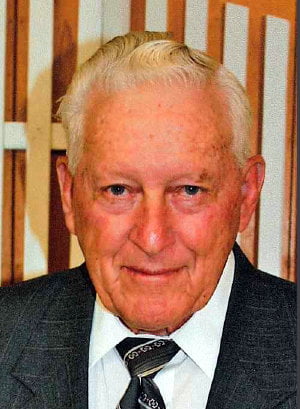 A memorial service for Emil Oren Girdley, 85, West Plains, Missouri, will be held at 11:00 a.m., Saturday, July 16, 2016 at First Christian Church.
Mr. Girdley passed away at 2:25 p.m., Tuesday, July 12, 2016 at NHC Healthcare.
He was born April 10, 1931, at West Plains, Missouri, to Leslie Girdley and Inez Minnich Girdley.  He graduated from West Plains High School with the Class of 1950 and on August 25, 1960, was married at Fairbanks, Alaska, to Lydia Romans.  Before his retirement, Mr. Girdley was a truck driver for Ozark Gas Co.  He enjoyed hunting, fishing, gardening, raising flowers and singing; he also enjoyed playing pool and winning tournaments.  Mr. Girdley was a member of First Christian Church.
He is survived by his wife, Lydia Girdley, of the family home; four children, Bunny Thompson and husband, Mike, Theodosia, Missouri, Veda Doss and husband, Ron, Sam Girdley and Lynn Girdley and wife, Carolyn, all of West Plains; fourteen grandchildren, Derek Thompson, Keri Woods and husband, Brandon, Jay Shelton and wife, Heather, Holly Carlson and husband, Cory, Nicole Rothove, Debbie Leach, Tammy Henderson, Mark Doss and wife, Kathy, Shea Girdley, Bryce Girdley and wife, Casey, Kalyn Girdley, Angel Holman and husband, Allen, Brian Simpson and Lacey Uphaus and husband, Brian; twenty-nine great-grandchildren; nine great-great-grandchildren; one half-brother; three half-sisters; and several nieces and nephews.
His parents, step-father, James Porter, two sisters, Evelyn Bridges and Becky Bentzel Massey and one brother, Kenneth Girdley, precede him in death.
Memorial contributions may be made to the St. Jude's Children's Research Hospital or the Gideon Bible Society and may be left at Robertson-Drago Funeral Home.