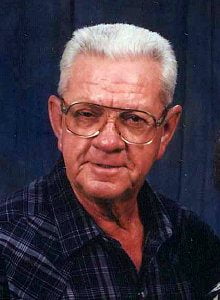 Funeral services for Erby Leo Bales, 86, West Plains, Missouri, will be held at 2:00 p.m., Friday, April 20, 2018 at Assembly of God Church, Bakersfield, Missouri, under the direction of Robertson-Drago Funeral Home.
Mr. Bales passed away at 10:50 a.m., Monday, April 16, 2018 at Brooke Haven Health Care.
He was born November 8, 1931, at Viola, Arkansas, to Hamey Otis Bales and Ora Ellen Johnson Bales. He met the love of his life in the cotton fields and on November 7, 1949, he was married at Salem, Arkansas, to Sunshine Good. The couple was married in a jail cell because the courthouse was not available. He had worked as a logger, a sawmill operator and as a janitor at Bakersfield School. Mr. Bales was a musician and played guitar at church. He loved God and was concerned where others would spend eternity. Mr. Bales was a Deacon and Sunday School superintendent for over forty years at the Assembly of God Church of Bakersfield. "A Sweet Man" loved by young and old alike.
He is survived by his wife of nearly seventy years, Sunshine Bales, West Plains, Missouri; two children, Donald Bales and wife, Carmen, Bakersfield, Missouri and Connie Bales, O'Fallon, Missouri; six grandchildren, Alecia Lowry, Georgianna "Anne" Kuk, Michael King, Jason King, Mary Beth Kyle and Karen Williams; thirteen great-grandchildren; five great-great-grandchildren and two on the way; and several nieces and nephews that he dearly loved.
His parents, two brothers, Harley Bales and Everett Bales and two sisters, Agnes Pendergrass and Elizabeth "Lizzie" Rhine, preceded him in death.
Visitation will be held from 6:00 until 7:00 p.m., Thursday, at Robertson-Drago Funeral Home. Burial will be in the Bakersfield Cemetery.