Eugene Davidson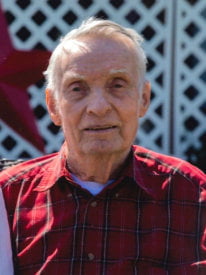 Funeral services for Eugene Davidson, 92, West Plains, Missouri, will be held at 10:00 a.m., Wednesday, December 29, 2021 in the Rose Chapel of Robertson-Drago Funeral Home.  
Mr. Davidson passed away at 1:38 a.m., Wednesday, December 22, 2021, at his home.
He was born March 7, 1929, in Baxter County, Arkansas, the son of Frank Davidson and Martha Hensley.  On October 14, 1954, he was married in Howell County, Missouri, to Phyllis Bryant.  Mr. Davidson was a veteran and retired from the United States Air Force after twenty years of service.  He enjoyed farming.  He also enjoyed traveling on the GO Club bus trips.    
He is survived by his wife, Phyllis, of the family home; two sons, Dwight Davidson and wife, Kathy, Cedar Point, Iowa, and Thomas Davidson, Caulfield, Missouri; three grandchildren; one great-grandchild; and several nieces and nephews.
His parents, one grandson, Daniel Davidson, and two brothers, Luther and Roy Davidson, preceded him in death.  
Burial will be at Amy Union Cemetery.  Memorial contributions may be made to Amy Union Cemetery and may be left at or mailed to Robertson-Drago Funeral Home, 211 West Main, West Plains, MO  65775.