Evelyn Mae Correll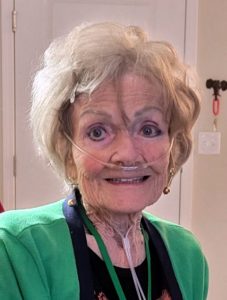 Graveside services for Evelyn Mae Correll, 89, West Plains, Missouri, will be held at 2:00 p.m., Thursday, April 6, 2023, at Howell Memorial Park Cemetery, under the direction of Robertson-Drago Funeral Home.  
Mrs. Correll passed away at 3:25 p.m., Thursday, March 30, 2023, at Ozarks Healthcare.
She was born August 9, 1933, in Howell County, Missouri, to Henry Edward and Mildred Arcelia (Welch) Brewer.  On March 6, 1954, she was married at West Plains, Missouri, to Howard Davis Correll, who preceded her in death on March 2, 2022, just a few days shy of their sixty-eighth wedding anniversary.  Howard and Evelyn's beginnings were here in the rural area of Howell County, Missouri, and both graduated from West Plains High School.  They lived all over the world, from Jefferson City to Virginia, Alaska, Ethiopia, Kuwait, and Bangladesh, continuing and expanding their travels for vacations and adventures.  Evelyn even brought two camel saddles home from a trip to Egypt!  One saddle resided with her in her apartment at Cedarhurst and the other is with her granddaughter in New Jersey.  After all of their travels throughout the world, Howard and Evelyn discovered that there was no place like the good ol' U.S. of A!!  They retired back here in Missouri.  Evelyn was a lover of animals, having four Poodles named Sandy, Boogiesah, KC, and Courtney, and three Yorkshire Terriers called Daisy, Gidget, and Archie.  She enjoyed fun and socialization, spending time with friends and family, and talking about her and Howard's life and adventures.
She is survived by her daughter, and Son in Law Deborah and Richard Honeywell of New Jersey; granddaughter, Holly Honeywell, and her boyfriend, Anthony Khoudary, of New Jersey; sister-in-law, Caroline Warren Durham and her husband, Jim of West Plains; sisters, Edith Little of Springfield, and Elsie Morgan, and her husband David of Springfield; brothers, David Brewer and his wife, Chris of West Plains, Donnie Brewer and his wife Sue of Springfield, and Everett Brewer and his wife, Linda of Springfield; and many nieces and nephews. 
Her parents, husband, Howard Correll, brothers Edd Brewer and Earl Brewer, brother-in-law, Carl Little, niece, Vickie Bouzerrara, and nephew, Dennis Brewer, preceded her in death.
Memorial contributions may be made to any charity of choice and may be left at or mailed to Robertson-Drago Funeral Home, 211 West Main, West Plains, MO  65775.