Florene Varue (Peachie) Roberson Moore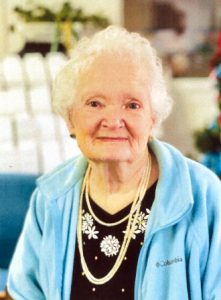 Funeral services for Florene Varue (Peachie) Roberson Moore, 91, West Plains, Missouri, will be held at 10:00 a.m., Saturday, December 31, 2022, in the Langston Street Chapel of Robertson-Drago Funeral Home.  
Mrs. Moore passed away at 7:45 a.m., Saturday, December 24, 2022, at her home.
She was born December 15, 1931, at Babylon, Long Island, New York, to Clifford Eugene and Ethel Robbinna (Crammond) Smith.  Peachie's family moved to Corpus Christi, Texas, when she was a child, and then settled in Hocomo, Missouri, when she was twelve years old.  She attended elementary school at Egypt Grove and graduated from Bakersfield High School with the Class of 1950. Her first job was at Richard's Brothers in West Plains.  She married her high school sweetheart, Dwayne Roberson, in 1951, and they moved to LaSalle Peru, Illinois, where they lived for sixteen years, before moving back to Hocomo in 1967.  Peachie cooked at South Fork Elementary school for many years, and was known and loved by the staff and students there.  She later cooked at Fairview Elementary, and finished her career at West Plains Elementary.  She made many life-long friends during those working years.  Peachie was loved by everyone that knew her.  She loved to sing and played the piano her entire life.  She had a beautiful alto voice, and knew every song in the Heavenly Highway's Hymnal.  As a young adult, she and her husband, Dwayne, sang together in the Roberson Family Quartet. Peachie was a faithful supporter of Hammond Mill Bible Camp.  She was one of the first campers when the camp was founded in the early 1940s.  She worked tirelessly planning and cooking at the camp for over 40 years.  In her later years, Peachie stayed busy in her home, taking care of her husband, and she remains the Phase 10 Champion, even after being challenged many times by her grandchildren.  She loved working word puzzles, and never missed Wheel of Fortune.  She also loved to travel, and loved going to Branson to see the shows.  Peachie was a member of Faith Chapel Freewill Baptist church for over thirty years, and loved playing piano and singing with her church family.  At the time of her death, she was attending Calvary General Baptist Church with her husband Jay, as it was close to her home, and she loved the small congregation there.  Whether you called her Mom, Grandma Peachie, Aunt Peachie, or Sister Peachie, please know that she loved you all.  We will miss her, but we rejoice to know that she is singing with the angels now, and all her troubles on this earth are no more.
She is survived by four children, Randall Roberson, Danny Roberson (Rita), Kenny Roberson (Kim), and Kay Sharbono (LeRoy); nine grandchildren, Jason Roberson, Trevor Roberson, Jenna Cousins, Dana Gifford, Matthew Roberson, Grayson Strodtman, Levi Strodtman, Chelsea Ebner, and Garrett Strodtman; several great-grandchildren, nieces, and nephews; one sister, Z. Kay Birckelbaw; and her husband, Jay Moore.
Her parents, husband, Dwayne Lee Roberson, one granddaughter, Serena Gail, and siblings, Duane, James, Darrell, Hardy, Alyne, and Zola, preceded her in death.
Visitation will be from 6:00 p.m. to 8:00 p.m., Friday, at Robertson-Drago Funeral Home.  Burial will be at Amy Cemetery.  Memorial contributions may be made to Hammond Bible Camp and may be left at or mailed to Robertson-Drago Funeral Home, 211 West Main, West Plains, MO  65775.